For complete online access to
new issues of Touchstone, subscribe today!
---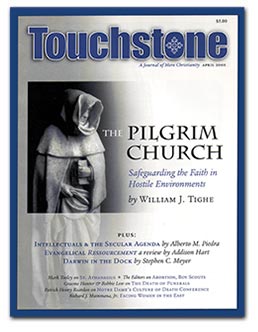 Abortion & the Mother's Life
by Patrick Henry Reardon

Scouting for Trouble
by Leon J. Podles

Imposing Beliefs?
by James Hitchcock



As It Is Written...
Peter at the Charcoal Fire
by Patrick Henry Reardon

Practical Christianity
The Ever-Changing Scandal
by Thomas S. Buchanan



Life & Death in South Bend
Notre Dame's Culture of Death Conference
by Patrick Henry Reardon

Darwin in the Dock
A History of Johnson's Wedge
by Stephen C. Meyer



Evangelical Ressourcement
Ancient-Future Faith
by Robert E. Webber
Retrieving the Tradition and
Renewing Evangelicalism
by D. H. Williams
A review by Addison H. Hart

Facing Women in the East
Women and the Priesthood
edited by Thomas Hopko
A review by Richard J. Mammana, Jr.



The Pilgrim Church
Safeguarding the Faith in Hostile Environments
by William J. Tighe

Weapons of the Left & the Right
Confronting the Secular Mentality in the Post-Soviet Era
by Alberto M. Piedra



My Latest Funeral
Graeme Hunter on Grave Entertainments

Death, Where Is Thy Dignity?
Robbie Low on Pastoral Rigor Mortis

Contra Mundum Redux
Mark Tooley on St. Athanasius



Every issue of Touchstone also contains short commentaries by our editors, notices of books you should know about, and our spirited letters section.