For complete online access to
new issues of Touchstone, subscribe today!
---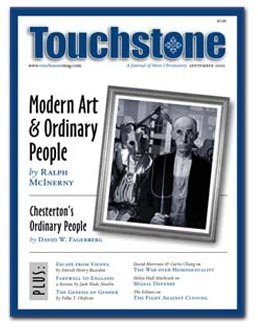 A New Resurrection?
by Thomas S. Buchanan

Normal Schools
by James Hitchcock



As It Is Written...
Moses on the Mountain
by Patrick Henry Reardon

Practical Christianity
The Cardinal Virtue of Prudence
by Thomas S. Buchanan



Missal Defense
The Vatican Issues Rules on Liturgical Translations
by Helen Hull Hitchcock



Farewell, England
The Abolition of Britain
by Peter Hitchens
England: An Elegy
by Roger Scruton
A review by Jack Wade Nowlin

Fascinating Lewis
We Remember C. S. Lewis
edited by David Graham
A review by Dale Nelson



Art for the Masses
The Death of Culture & the Culture of Death
by Ralph McInerny

Escape from Vienna
Critical Reflections on a Lingering Confinement
by Patrick Henry Reardon

God & the Genesis of Gender
The Trustworthy Biblical Design of Man & Woman
by Folke T. Olofsson



Finding the Straight Path
David Morrison on Our War over Homosexuality

An Idolatrous Silence
Curtis Chang on Evangelicals & the Egalitarianism of Sin

Splendor in the Ordinary
David W. Fagerberg on Chesterton's Incarnational Style



Every issue of Touchstone also contains short commentaries by our editors, notices of books you should know about, and our spirited letters section.