For complete online access to
new issues of Touchstone, subscribe today!
---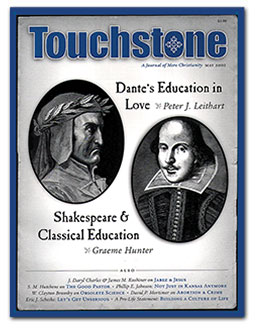 In Praise of the Good Pastor
by S. M. Hutchens



The Leading Edge
Not Just in Kansas Anymore
by Phillip E. Johnson

The Matter At Hand
Flying High at Trinity
by Leon J. Podles

As It Is Written...
The Tragedy of Jephthah
by Patrick Henry Reardon

Practical Christianity
The Cosmic Cemetery
by Thomas S. Buchanan



The Engulfed Cathedral
The Latest from Sweden's Avant-Garde Church
by William J. Tighe



Christ with Us
The Spirit of the Liturgy
by Joseph Cardinal Ratzinger
A review by Robert Hart

True Sons of St. Benedict
Words of Life
by Dom Columba Marmion
Custody of the Heart
edited by William P. Hyland
A review by Addison H. Hart

Lighten Up!
On the Unseriousness
of Human Affairs
by James V. Schall
A review by Eric Scheske



Becoming Aeneas, Becoming Paul
Hell & Dante's Education in Love
by Peter J. Leithart

Taming the Tempest
The Meaning of Classical Education
by Graeme Hunter



Not Praying Jabez
J. Daryl Charles on a Little Book with a Big Problem

Praying with Jesus
James M. Kushiner on Jabez & the Lord's Prayer

Nipping Felons in the Bud
David P. Mortimer on Abortion & Crime Reduction

Outside Darwin's Box
W. Clayton Brumby on Surviving Obsolete Science



Every issue of Touchstone also contains short commentaries by our editors, notices of books you should know about, and our spirited letters section.