For complete online access to
new issues of Touchstone, subscribe today!
---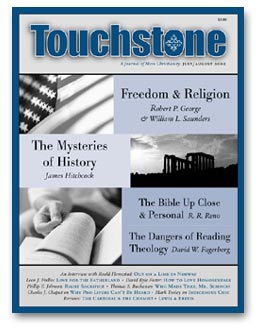 Population & Religious Freedom
by James Hitchcock

Priests Most Wanted
by Leon J. Podles



The Leading Edge
Right Sacrifice
by Phillip E. Johnson

The Matter At Hand
Love for the Fatherland
by Leon J. Podles

As It Is Written...
"The Man, Jesus Christ ,"
by Patrick Henry Reardon

Practical Christianity
Not So Cheap
by Thomas S. Buchanan



Indigenous Chic
Christianity & the Cult of Indigenous People
by Mark Tooley



The Cardinal & the Chemist
Personal Catholicism
by Martin X. Moleski, S.J.
A review by Joseph Kroger

Free to Live & to Love God
The Question of God
by Dr. Armand M. Nicholi, Jr.
A review by Preston Jones

The Faith of the Global South
The Next Christendom
by Philip Jenkins
A review by Jeremy Lott



Church, State & Conscience
The Freedom of the Church & the Responsibility of the State
by Robert P. George
& William L. Saunders

Things Hidden Since the Beginning of the World
The Shape of Divine Providence & Human History
by James Hitchcock

"You Have Been Brought Near "
Reflections in the Aid of Theological Exegesis
by R. R. Reno

Caveat Lector
On the Reading of Theological Books
by David W. Fagerberg



Right Makes Might
Charles J. Chaput on the Sanctity of Life

Fearfully & Wonderfully Made
Thomas S. Buchanan on God & Science

A Chautauqua Story
David Kyle Foster on the Intolerance of "Open" Communities

Hitting the Wrong Note
Thomas Day on Church Music



Out on a Limb in Norway
An Interview with Norwegian Dissident Roald Flemestad



Every issue of Touchstone also contains short commentaries by our editors, notices of books you should know about, and our spirited letters section.