For complete online access to
new issues of Touchstone, subscribe today!
---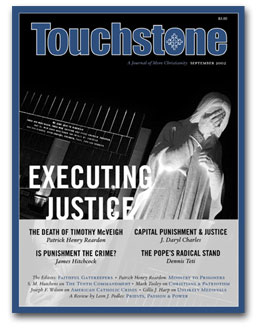 Faithful Gatekeepers
by James M. Kushiner

Ministry to Prisoners
by Patrick Henry Reardon



The Matter At Hand
Disaster Canada
by Leon J. Podles

As It Is Written...
The Sign of Jonah
by Patrick Henry Reardon

Practical Christianity
Again & Again
by Thomas S. Buchanan



Priests, Passion & Power
The Dynamics of Celibacy & Homosexuality in the Catholic Church
A review by Leon J. Podles



The Crime of Punishment
Capital Punishment & Cultural Change in American Life
by James Hitchcock

Capital Crime & Punishment
Reflections on Violating Human Sanctity
by J. Daryl Charles

A Papal Remedy
Capital Punishment, the Demise of Natural Law & John Paul II
by Dennis Teti

A Vigil for McVeigh
My Night Among the Protesters at an Execution
by Patrick Henry Reardon



Flagging Patriotism
Mark Tooley on Christians & Love of Country

God's Hat
S. M. Hutchens on the Tenth Commandment

An Unlikely Window on the Medieval Church
Gillis J. Harp on Reforming the Reformed

Our Not-So-Glorious Selves
Joseph F. Wilson on the Crises of the American Catholic Church



Every issue of Touchstone also contains short commentaries by our editors, notices of books you should know about, and our spirited letters section.