For complete online access to
new issues of Touchstone, subscribe today!
---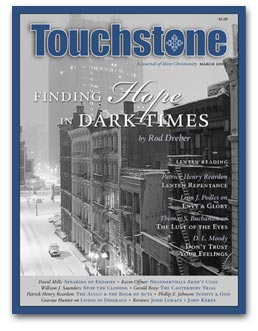 Stop the Cloning
by William L. Saunders



The Leading Edge
Scouts & God
by Phillip E. Johnson

The Matter At Hand
The Envy of the Devil & the Glory of God
by Leon J. Podles

As It Is Written...
Lenten Repentance
by Patrick Henry Reardon

Practical Christianity
Unmoored Sticks
by Thomas S. Buchanan



Vietnam Protest
Is There Really Religious Liberty in Communist Vietnam?
by Mark Tooley



Indeterminate Historian
At the End of an Age
by John Lukacs
A review by Jay W. Richards

Good Without God?
The Art of Life
by John Kekes
A review by Graeme Hunter



The Apostolic Epic
The Aeneid & the Acts of the Apostles
by Patrick Henry Reardon

Swedes Adrift
The Plight of Conservatives in the Church of Sweden
by William J. Tighe



Lessons & Carols
Rod Dreher on Finding Hope in Difficult Times

Speaking of Enemies
David Mills on Good Men & Bad Opinions

Neanderthals Aren't Cool
Kevin Offner on the "Gender Issue"

A Rash of Posters
Graeme Hunter on Living in Disgrace

The Canterbury Trial
Gerald Bray on Rowan Williams & Evangelicals



Every issue of Touchstone also contains short commentaries by our editors, notices of books you should know about, and our spirited letters section.