For complete online access to
new issues of Touchstone, subscribe today!
---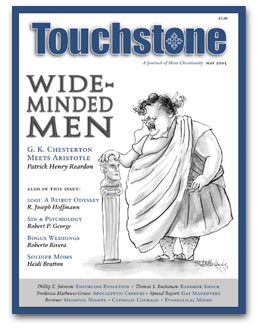 A Fundamental Clash
by S. M. Hutchens

Ready for the Apocalypse
by Frederica Mathewes-Green



The Leading Edge
Ya Gotta Believe!
by Phillip E. Johnson

The Matter At Hand
There's No Smell Like Home
by Leon J. Podles

As It Is Written...
The First Commandment
by Patrick Henry Reardon

Practical Christianity
Culture Shock
by Thomas S. Buchanan



The Gay Embrace
Mainliners Stymied on the Matter of Homosexuality
by James M. Kushiner



Medieval Nights
Night in the Middle Ages
by Jean Verdon
A review by Richard J. Mammana, Jr.

The Courage to Be Christian
The Courage to Be Catholic
by George Weigel
A review by Graeme Hunter

Whence the Evangelical Mind?
America?s God by Mark A. Noll
A review by Preston Jones



A Farewell to Hamra
Beirut 2001: The Year in Pixels
by R. Joseph Hoffmann

Common Sense
Chesterton & the Aristotelian Tradition
by Patrick Henry Reardon



Fallen Images
Robert P. George on Sin & Psychology

The Trouble with Weddings
Roberto Rivera on Symbols & Substance

Soldiers on the Home Front
Heidi Bratton on the Vocation of Motherhood

Back to Nicaea?
Harry Chronis on Turning the Presbyterian Church, USA, Toward Home



Every issue of Touchstone also contains short commentaries by our editors, notices of books you should know about, and our spirited letters section.