For complete online access to
new issues of Touchstone, subscribe today!
---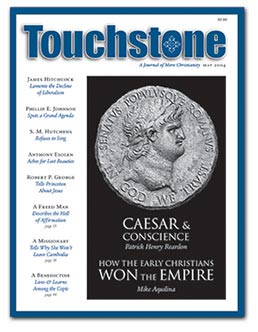 Caesar & Conscience
by Patrick Henry Reardon



The Leading Edge
Grand Canyon Mystery Tour
by Phillip E. Johnson

Practical Christianity
Nothing Is Sinful
by Thomas S. Buchanan

As It Is Written...
Salvation's Threefold Cord
by Patrick Henry Reardon



Disunion of Utrecht
Old Catholics Fall Out over New Doctrines
by Laurence J. Orzell



An American in Paradise
Journey Back to Eden
by Mark Gruber, O.S.B.
A review by Mike Aquilina

Churchly Shadows & Substance
Deconstructing Evangelicalism,
Recovering Mother Kirk
by D. G. Hart
A review by Robert W. Patterson



Supremely Modern Liberals
The Unhappy & Abusive Marriage of Liberalism & Modernism
by James Hitchcock

Supreme Modernism
A sidebar in James Hitchcock's "Superemely Modern Liberals"
by David Mills

A Geography of Kind
The Preservation of Landscapes & the Beauty of the Sexes
by Anthony Esolen

Salt of the Empire
The Role of the Christian Family in Evangelization
by Mike Aquilina



I Did It
Robert P. George on the Passion & Death of Christ

Please Me, O Lord
S. M. Hutchens on the Roots of Romantic Worship

Cambodian Call
Charis Crowley Writes a Journalist Who Thinks Missionaries Should Leave



Every issue of Touchstone also contains short commentaries by our editors, notices of books you should know about, and our spirited letters section.