For complete online access to
new issues of Touchstone, subscribe today!
---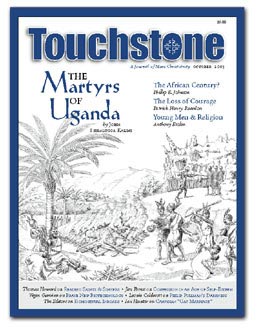 Homosexual Inroads
by Patrick Henry Reardon



The Leading Edge
The African Century?
by Phillip E. Johnson

As It Is Written...
Abraham's Servant
by Patrick Henry Reardon



Reforming the Evangelical Conscience
The Unformed Conscience
of Evangelicalism
by J. Daryl Charles
A review by Hans Boersma

Variations on James
The Varieties of Religion Today
by Charles Taylor
A review by Jeremy Lott

Untangling the Webs
What We Can?t Not Know
by J. Budziszewski
A review by Jeff McAlister



Rest for Our Souls
Confession in an Age of Self-Esteem
by Jim Forest

Huxley's Mirror
The Future of Man in the Brave New World
by Vigen Guroian

Paradise Denied
Philip Pullman & the Uses & Abuses of Enchantment
by Leonie Caldecott



The African Cross-Bearers
John Ssebalugga Kalimi on the Martyrs of Uganda

Homer, Sex & Bungee Jumping
Patrick Henry Reardon on the Lost World of Courage

What Sports Illustrate
Anthony Esolen on the Obvious Truth About Young Men & Religion

The Wages of Reading
Thomas Howard on the Literature of Saints & Sinners

Canadian Infidelity
Ian Hunter on Courts, Churches & "Gay Marriage"



Every issue of Touchstone also contains short commentaries by our editors, notices of books you should know about, and our spirited letters section.