For complete online access to
new issues of Touchstone, subscribe today!
---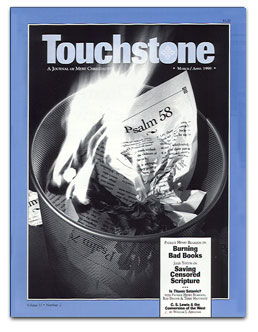 Resenting the Child
by James Hitchcock



Practical Christianity
Saying You're Sorry
by Thomas S. Buchanan



Clueless: The Courtships of the NCC
Church News from Washington
by Mark Tooley

A Long Resistance in the Same Direction
The Quiet Revolution in the Presbyterian Church (USA)
by Parker T. Williamson



The Muggeridge Conundrum
Muggeridge: The Biography by Richard Ingrams
A review by Adam Schwartz



Is Titanic Satanic?
An Internet Discussion Between Patrick Henry Reardon, Rod Dreher & Terry Mattingly
With contributions by
Rod Dreher,
Terry Mattingly
& Patrick Henry Reardon



C. S. Lewis & the Conversion of the West
The Value of C. S. Lewis for the Christian Mission Today
by William J. Abraham

From Book Burning to Canon
On the Destruction & Preservation of Sacred & Profane Texts
by Patrick Henry Reardon

Christ in All the Scriptures
The Long Common Thread of Christological Interpretation
by John Yocum



Mad as Hell
S. M. Hutchens on the Sixth Commandment

Christian Karaoke
by Lendol Calder



Regenerating the Faith
An Interview with W. Bradford Wilcox, Editor of Re:Generation Quarterly
by Kevin Offner



Every issue of Touchstone also contains short commentaries by our editors, notices of books you should know about, and our spirited letters section.