For complete online access to
new issues of Touchstone, subscribe today!
---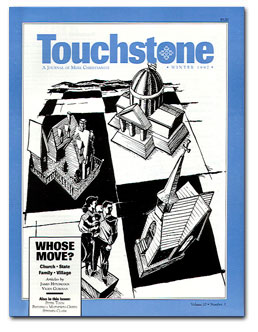 Churches for Youth
by James M. Kushiner

Churches for Families
by S. M. Hutchens



Practical Christianity
Holy Fire
by Thomas S. Buchanan



Quo Vadis, Domina?
God or Goddess? Feminist Theology: What Is It? Where Does It Lead?
A review by Stephen Clark



Christ & Culture: A Dilemma Reconsidered
A New Look at Culture, Christians & the State
by James Hitchcock

A Bridge or an Abyss?
The Debate over the Family in the American Political "Village"
by Vigen Guroian

An Everlasting Life
Remembering Mary Denise Sauer July 12, 1995—August 26, 1995
by James L. Sauer



Idols Old & New
S. M. Hutchens on the Second Commandment

Redeeming the Time
by Frederica Mathewes-Green



Every issue of Touchstone also contains short commentaries by our editors, notices of books you should know about, and our spirited letters section.