Get this issue included in a special box set of 30 issues for only $20.
Free shipping. While supplies last.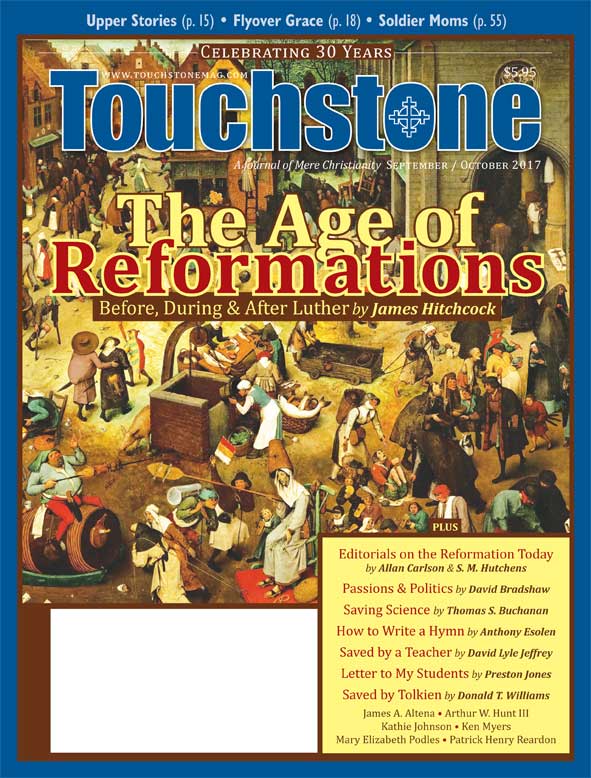 editorials
Schisms, Reformation, Recovery & Renewal
by Allan C. Carlson


Reformations & Touchstone Diplomacy
by S. M. Hutchens


quodlibets
columns
Mortal Remains
by S. M. Hutchens


From Heavenly Harmony
by Ken Myers


First Books
by Kathie Johnson


Illuminations
by Anthony Esolen


A Thousand Words
The Marriage of Tobias and Sarah by by Carlo Dolci
by Mary Elizabeth Podles


As It Is Written...
by Patrick Henry Reardon


features
The True Scientist Should Have No Conflict with the Christian Faith
by Thomas S. Buchanan


Why I'll Never Forget Pop Shaver As Long As I Live
by David Lyle Jeffrey


How Tolkien's Lord of the Rings Saved Me
by Donald T. Williams


The Critical History Before, During & After Martin Luther
by James Hitchcock


The Christian Cure for What Ails Modern Politics
by David Bradshaw


Why Selective Service for Women Is Immoral
by Andrew A. Sicree


views
Preston Jones on a Charge to Keep Before It's Too Late


Tara L. Jernigan on the Importance of Narrative in Christian Formation


Casey Chalk on Costly Grace in Breece D'J Pancake's Flyover Country


book reviews
Surprised by Beauty: A Listener's Guide to the Recovery of Modern Music by Robert R. Reilly with Jens F. Laurson
A review by James A. Altena


The Demon in Democracy: Totalitarian Temptations in Free Societies by Ryszard Legutko
A review by Arthur W. Hunt III


Theosis: Patristic Remedy for Evangelical Yearning at the Close of the Modern Age by Michael Paul Gama
A review by S. M. Hutchens


departments