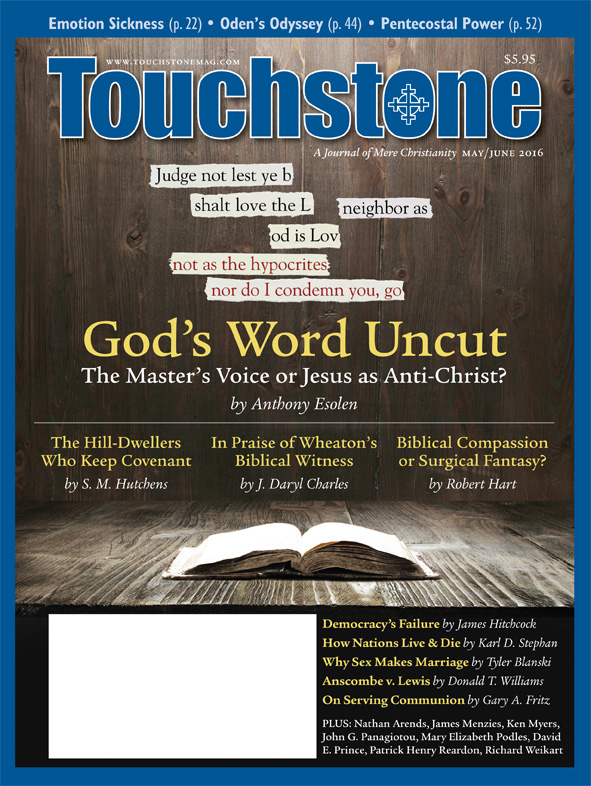 Get this issue and 5 others for only $15.
Free shipping. While supplies last.
editorials
Our Choice Is Obedience or Jesus as Anti-Christ
by Anthony Esolen


Christians, Imperialism & the Rule of Law
by S. M. Hutchens


Flailing Democracy
Left-Right Populism versus American Elitismby James Hitchcock
Hailing Deliverance
A Last Trump Before an Apocalypse?by S. M. Hutchens
columns
Communiqué
by J. Daryl Charles


Mortal Remains
by S. M. Hutchens


From Heavenly Harmony
Lyrical Shapes of Fatherly Love
by Ken Myers


Illuminations
by Anthony Esolen


A Thousand Words
Hubert and Jan van Eyck's
The Ghent Altarpiece
by Mary Elizabeth Podles


As It Is Written...
by Patrick Henry Reardon


features
A Deathbed Reflection on Catholic Social Teaching & Our Future Prospects
by Karl D. Stephan


But Sex Is Sex, the Essential Foundation of Authentic Marriage
by Tyler Blanski


views
Gary A. Fritz on the Blessings of Serving Communion to the Saints


Donald T. Williams on Anscombe's Final Word on Lewis & Naturalism


C. R. Wiley on the Big Thing That Pixar's Inside Out Left Out


Robert Hart on Biblical Compassion for Sex-Change Confusion


book reviews
A Change of Heart: A Personal and Theological Memoir
by Thomas C. Oden
A review by S. M. Hutchens


Takedown: From Communists to Progressives, How the Left Has Sabotaged Family and Marriage
by Paul Kengor
A review by Richard Weikart


Women and C. S. Lewis: What His Life and Literature Reveal for Today's Culture
by Carolyn Curtis and Mary Pomroy Key
A review by
The Orthodox Dilemma: Personal Reflections on Global Pan-Orthodox Christian Conciliar Unity
by George Alexander
A review by John G. Panagiotou


Life Under Compulsion; From A to Z to Narnia with C. S. Lewis; and Heaven, Hell, and Purgatory
A review by Nathan Arends,
James Menzies
& David E. Prince


departments