For complete online access to
new issues of Touchstone, subscribe today!
---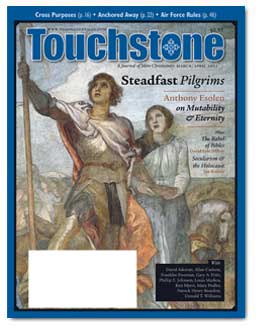 Saints by Numbers
by Allan Carlson



The Leading Edge
Peace-Seeking Muslims
by Phillip E. Johnson

Contours of Culture /
From Heavenly Harmony
What's God Got to Do with It?
by Ken Myers

Illuminations
Fast & See That the Lord Is Good
by Anthony Esolen

Communiqué
Freedom's Finis Flight?
by Joseph M. Burns

A Thousand Words
Barocci's Annunciation
by Mary Podles

As It Is Written...
Theology & the Mind of Christ
by Patrick Henry Reardon



Highways of the Heart
Existential Reasons for Belief in God: A Defense of Desires and Emotions for Faith by Clifford Williams
A review by Louis Markos

Measuring Bush
The Man in the Middle: An Inside Account of Faith and Politics in the George W. Bush Era by Timothy S. Goeglein
A review by David Aikman

Fair Reprieve
Beauty Will Save the World: Recovering the Human in an Ideological Age by Gregory Wolfe
A review by Franklin Freeman



God's Place & Ours
On Mutability & the Lost Virtue of Steadfastness
by Anthony Esolen

Our Babel of Bibles
Scripture, Translation & the Possibility of Spiritual Understanding
by David Lyle Jeffrey

From Modernity To Auschwitz
The Secular & Anti-Christian Origins of the Holocaust
by Joe Keysor



Cross Purposes
Thomas W. Jodziewicz on the Silent Witness of a Crucifix in a Classroom

Wholly Grounded
Donald T. Williams on a Few Facts I Learned in the Holy Land

Heaven's Gate
Gary A. Fritz on Touching Eternity Through the Death of a Believer

Anchored Away
Raymond J. Brown on Sailors Keeping Faith on Land & Sea



Every issue of Touchstone also contains short commentaries by our editors, notices of books you should know about, and our spirited letters section.