For complete online access to
new issues of Touchstone, subscribe today!
---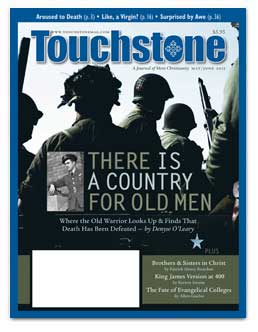 Arousing Ourselves to Death
by Russell D. Moore



Contours of Culture /
From Heavenly Harmony
No Time Like the Present
by Ken Myers

First Books
Opening Day
by Kathie Johnson

Communiqué
There Is A Country for Old Men
by Denyse O'Leary

As It Is Written...
From the Cross
by Patrick Henry Reardon



CounterPunch
The Last Superstition: A Refutation of the New Atheism by Edward Feser
A review by Graeme Hunter

Ploughboy's Book
The Bible in English: Its History and Influence by David Daniell
A review by Janice Horton

Truth Recall
Saving Leonardo: A Call to Resist the Secular Assault on Mind, Morals, and Meaning by Nancy Pearcey
A review by Richard Weikart



God's English
The Making & Endurance of the King James Bible, 1611-2011
by Barton Swaim

Course Corrections
Whither the Evangelical Colleges?
by Allen C. Guelzo

Surprised by Awe
C. S. Lewis & Rudolf Otto's The Idea of the Holy
by Clara Sarrocco



His God & Ours
Patrick Henry Reardon on Why We Can Be Brothers & Sisters in Christ

Like, a Virgin?
Russell D. Moore on Christian Courtship & the Awkward Question of Sexual History

This I Know
Bobby N. Winters on the Love of Jesus & the Love of a Mother

Lost at Sea
Robin Phillips on the Dawn Treader's Voyage of Self-Discovery



Every issue of Touchstone also contains short commentaries by our editors, notices of books you should know about, and our spirited letters section.