For complete online access to
new issues of Touchstone, subscribe today!
---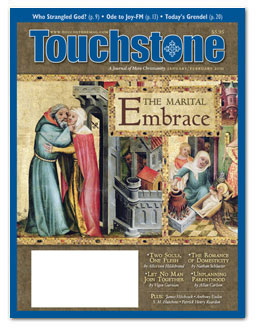 Special Election?
by James Hitchcock



Contours of Culture /
From Heavenly Harmony
Who Strangled God?
by Ken Myers

First Books
Primary Intelligence
by Kathie Johnson

Communiqué
Family Takeover
by Stephen Baskerville

As It Is Written...
David's Reliance
by Patrick Henry Reardon



Bad Ideas & Their Consequences
Intellectuals and Society
by Thomas Sowell
A review by J. Daryl Charles



Secular Grendel
Ruminations on the Monstrous Envy of the Soul-Devouring State
by Anthony Esolen

Two Souls, One Flesh
The Divine Invention of Man & Marriage Is a Prodigious Mystery
by Alice Von Hildebrand

Let No Man Join Together
An Orthodox Christian View of a Beseiged Sacrament
by Vigen Guroian

The Romance of Domesticity
Marriage Thrives in Reality, Not in Our Dreams
by Nathan Schlueter

Sanger's Victory
How Planned Parenthood's Founder Played the Christians, and Won
by Allan Carlson



The Jewish Indictment
S. M. Hutchens on the Gospel of Christ & the Law of the Lord

From Ode to Joy FM
James Hitchcock on the Sale of a Lutheran Classical Station

Passages of Time
Charles J. Colton on the Gap Theory & Biblical Chronologies

Waiting for God?
Randall Smith on the Meaning of "Providentially, Just in Time"



Every issue of Touchstone also contains short commentaries by our editors, notices of books you should know about, and our spirited letters section.