For complete online access to
new issues of Touchstone, subscribe today!
---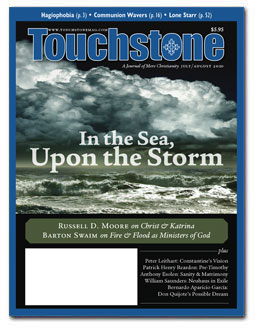 Zeal for Thy House
by Leon J. Podles

Hagiophobia
by Anthony Esolen



The Leading Edge
A Circle of Love
by Phillip E. Johnson

Contours of Culture /
From Heavenly Harmony
Ecclesia Americana
by Ken Myers

Communiqué
Asia Minority
by Peter Riddell

Communiqué
Lone Starr
by Brad Green

As It Is Written...
Conversational Revelation
by Patrick Henry Reardon



My Friend in Exile
American Babylon: Notes of a Christian Exile by Richard John Neuhaus
A review by William L. Saunders

Non Sequitur
The End of Secularism
by Hunter Baker
A review by Paul J. Cella III



Christ & Katrina
Five Years Ago My Hometown Suffered an Apocalypse
by Russell D. Moore

Sanity & Matrimony
Ten Arguments in Defense of Marriage (Part 1 of 2)
by Anthony Esolen

Sign of the Son
What Did Constantine Know & When Did He See It?
by Peter J. Leithart

The Possible Dream
The Quixotic Wisdom of Don Quijote's Sancho
by Bernardo Aparicio García



Commencement Day
Anthony Esolen on Letting Our Children Go Home (A Graduation Address)

Sacred Grammar
Patrick Henry Reardon on the Three Blessings of Timothy

Communion Wavers
R. J. Snell on the Triumph of Anglican Experience over Faith & Reason

Winds Thy Messengers
Barton Swaim on Natural Disasters as Ministers of God



Every issue of Touchstone also contains short commentaries by our editors, notices of books you should know about, and our spirited letters section.