For complete online access to
new issues of Touchstone, subscribe today!
---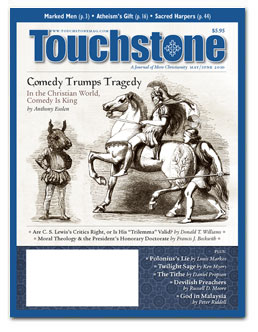 Marked Men
by S. M. Hutchens



Contours of Culture /
From Heavenly Harmony
Twilight Sage
by Ken Myers

Communiqué
Entitled to God
by Peter Riddell

Communiqué
Notes from the Other World
by Philip E. Devine

As It Is Written...
Samuel's Place
by Patrick Henry Reardon



Wesleyan Surge
Taking Back the United Methodist Church by Mark Tooley
A review by William Murchison

Idol Days
Victorian Reformation: The Fight over Idolatry in the Church of England, 1840–1860
by Dominic Janes
A review by William J. Tighe

Roman Roads
Holy Ground: Walking with Jesus as a Former Catholic
by Chris Castaldo
A review by Louis Markos

American Peace Pipe
The Seven Faith Tribes: Who They Are, What They Believe, and Why They Matter by George Barna
A review by Thomas A. Baima



Humor on the Move
In the Christian World, Comedy Is King
by Anthony Esolen

Identity Check
Are C. S. Lewis's Critics Right, or Is His "Trilemma" Valid?
by Donald T. Williams

Justice for Some
Moral Theology & the President's Honorary Doctorate
by Francis J. Beckwith



Preaching Like the Devil
Russell D. Moore on the High Stakes of Dull & Evasive Sermons

Polonius's Lie
Louis Markos on the Image of God & the Thine Own True Self

Manna & Mammon
Daniel Propson on the Wisdom of Giving a Tithe to the Lord

Atheism's Gift
Christopher Killheffer on the Good Questions That Dispel False Beliefs



Every issue of Touchstone also contains short commentaries by our editors, notices of books you should know about, and our spirited letters section.