For complete online access to
new issues of Touchstone, subscribe today!
---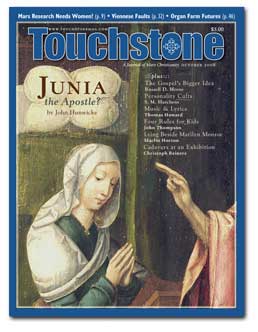 Scandalous Messengers
by Patrick Henry Reardon



The Leading Edge
Title-Nining Hard Science
by Phillip E. Johnson

Life Sentences
Down on the Transplantations
by Anita Kuhn

As It Is Written...
Haran Junction
by Patrick Henry Reardon



What They Beheld
Jesus and the Eyewitnesses: The Gospels as Eyewitness Testimony by Richard Bauckham
A review by Peter J. Scaer

Viennese Faults
Sacred Spring: God and the Birth of Modernism in Fin de Siècle Vienna by Robert Weldon Whalen
A review by Peter J. Leithart

In Their Steps
On the Side of the Angels: Justice, Human Rights, and Kingdom Mission by Joseph D'souza and Benedict Rogers
A review by Benjamin Marsh

Liturgical Devices
Missale Romanum, editio typica 1962 reprint and introduction by Manlio Sodi and Alessandro Toniolo
Il Messale di Pio V by Manlio Sodi
A review by Richard Upsher Smith, Jr.

Sodom on Itself
What Do Gay Men Want? An Essay on Sex, Risk, and Subjectivity by David M. Halperin
A review by David L. Tubbs



The Gospel's Bigger Idea
You Can't Tell the Story of Jesus Without Jesus
by Russell D. Moore

Junia Among the Apostles
The Story Behind a New Testament Saint & the Egalitarian Agenda
by John Hunwicke



A Semple Mistake
S. M. Hutchens on Misplaced Adoration & the Cult of Personality

The Oldies Record
Thomas Howard on the Old Canon That Even Reactionaries Won't Sing

Weed Free
John Thompson on Tending a Child's Garden of Influences

Beauty & the Beast
Maclin Horton on Marilyn Monroe & Hugh Hefner, Together at Last

Working Stiffs
Christoph Reiners on the Bodily Disrespect Displayed in Our Museums



Every issue of Touchstone also contains short commentaries by our editors, notices of books you should know about, and our spirited letters section.