For complete online access to
new issues of Touchstone, subscribe today!
---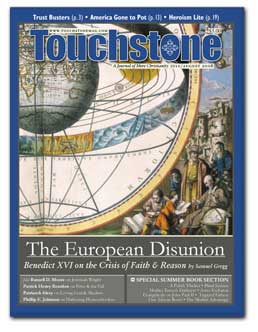 Trust Busters
by Anthony Esolen



The Leading Edge
Harboring Homeschoolers
by Phillip E. Johnson


Weed in the Grass
by Howard F. Ahmanson, Jr.
& Allan Carlson

As It Is Written...
Peter & the Fall
by Patrick Henry Reardon



Loving God & Muslims
Bulletin of the Representation of the Russian Orthodox Church to the European Institutions, in Response to the Open Letter of 138 Muslim Theologians
by Patriarch Alexy Of Moscow And All Russia



Here We Are
Why Is There Something Rather Than Nothing? 23 Questions from Great Philosophers by Leszek Kolakowski
A review by Amanda Shaw

Obstructed View
Science's Blind Spot: The Unseen Religion of Scientific Naturalism
by Cornelius G. Hunter
A review by Terry Scambray

Dark Passages
Come Be My Light: The Private Writings of the "Saint of Calcutta" by Mother Teresa
A review by Denyse O'Leary

The Serpent's Tale
2012: The Return of Quetzalcoatl
by Daniel Pinchbeck
A review by Matthew J. Milliner

Pontifical Readings
The Legacy of John Paul II: An Evangelical Assessment
edited by Tim Perry
A review by Graeme Hunter

The Father Trap
Taken into Custody: The War Against Fatherhood, Marriage, and the Family
by Stephen Baskerville
A review by Anne Hendershott

The Africa Factor
How Africa Shaped the Christian Mind: Rediscovering the African Seedbed of Western Christianity
by Thomas C. Oden
A review by L. P. Fairfield

Armed & Aggressive
The Suicide of Reason: Radical Islam's Threat to the West by Lee Harris
A review by John C. Chalberg



The European Disunion
Benedict XVI on the Crisis of Faith & Reason
by Samuel Gregg

Thirty Years of Light & Glory
The Perils of Providential History
by John Fea



The Messiah Channel
Russell D. Moore on Jeremiah Wright & the Conservatives Who Preach Just Like Him

Bad News Bearers
Daniel Propson on Evangelizing the Decent, Deserving & Lost

Bored to Be a Hero
Peter A. Speckhard on Finding Molehills to Conquer



Every issue of Touchstone also contains short commentaries by our editors, notices of books you should know about, and our spirited letters section.