The Messiah Channel
Russell D. Moore on Jeremiah Wright & the Conservatives Who Preach Just Like Him
For months, Barack Obama's pastor lit up the radio and television airwaves with his comments on conspiracy theories about American "state-sponsored terrorism," his call on God to damn America, his belief that the September 11 terrorist attacks were simply America's "chickens coming home to roost."
Some of the talking heads discussed Jeremiah Wright as though his kind of rhetoric were essential to the African-American church, a claim that is patently untrue, and easily verifiable as such. Others seemed to assume that his style of ministry was unique. The truth is, Jeremiah Wright's name is Legion, and you are just as likely to hear his kind of preaching in a white congregation as in a black one.
Bypassing Jesus
Wright, after all, is not making this stuff up. He is preaching a form of liberation theology. The liberation theologians see the gospel of Christ crucified and resurrected, the message of deliverance from the reign of sin and death through repentance and faith, as "pie in the sky." Liberation theology offers economic and political salvation in the here-and-now, making the Scripture illustrative of how to navigate out of oppression.
This is not the gospel as proclaimed by the prophets and apostles, a gospel that centers on Jesus Christ and him alone. The clips of the Wright sermons should outrage us. But we should be outraged first as Christians. The most egregious aspect of his statements is not what he is saying about America, but what he is not saying about the gospel.
But one does not have to be a political radical to bypass Jesus at church. White, upwardly mobile, pro-America preachers preach liberation theology all the time, with all the fervor of Jeremiah Wright, if not the anger.
Just take a look at the best-selling authors in Christian bookstores. Listen for a minute or two to the parade of preachers on Christian television and radio. What are they promising? Your best life now. What are they preaching about? How to be authentic. How to make good career choices. How Hillary Clinton fits into Bible prophecy.
How many times have we heard conservative preachers use the Bible in exactly the same way that Jeremiah Wright uses it? Wright uses the Scripture as a background to get to what he thinks is the real issue, psychological or economic or political liberation from American oppression. Others use the Scripture as a background to get to what they think is the real issue, psychological or economic or political liberation through the American Dream.
Either way, Jesus is a way to get to what the preacher deems really important, be it national health care or "your best life now." Either way, the end result is hell for the hearer who accepts this gospel, regardless of whether God damns or blesses America.
Last Easter Sunday, the new pastor at Trinity United Church of Christ, where Wright is now pastor emeritus, preached from the biblical account of the crucifixion of Jesus, but did so as illustrative of the controversy over Wright. In other churches all over the country that same Sunday, many conservative "Bible-based" pastors preached from that same account, but the account of the crucifixion and Resurrection was used as illustrative of finding hope when you're hopeless, of finding a light at the end of your tunnel.
In both cases, the preachers fit Jesus into a preexisting storyline. They did not call upon their hearers to find themselves in the storyline of the crucified, buried, and resurrected Jesus. For them, Jesus is a mascot, just for different agendas, none of which will last a minute past the Judgment Seat.
Bypassing the Problem
There is a liberation theology of the Left, and there is also a liberation theology of the Right, and both are at heart mammon worship. The liberation theology of the Left often wants a Barrabas, to fight off the oppressors as though our ultimate problem were the reign of Rome and not the reign of death. The liberation theology of the Right wants a golden calf, to represent religion and to remind us of all the economic security we had in Egypt. Both want a Caesar or a Pharaoh, not a Messiah.
Preachers will always be tempted to bypass the problem behind the problems: captivity to sin, bondage to the accusations of the demonic powers, the sentence of death. That's why so many of our Christian superstars smile at crowds of thousands, reassuring them that they don't like to talk about sin. That's why other Christian celebrities are seen to be courageous for fighting their culture wars, while they carefully leave out the sins most likely to be endemic to the people paying the bills in their congregations.
Where there is no gospel, something else will fill the void: therapy, consumerism, racial or class resentment, utopian politics, crazy conspiracy theories of the left, crazy conspiracy theories of the right; anything will do. The prophet Isaiah warned us of such conspiracies replacing the Word of God centuries ago (Is. 8:12–20). As long as the Serpent's voice is heard, "You shall not surely die," the powers are comfortable.
Jeremiah Wright's pronouncements are tragic. But they are tragic not just because of what he said, but where he said it. He was standing in the place of Jesus, but channeling Che Guevara. Change the channel and you will find a smiling, non-threatening, pro-America preacher, also standing in the place of Jesus, but he's channeling Ayn Rand or M. Scott Peck or Peter Drucker.
The answer to both is to preach Christ, and him crucified. Where the gospel is preached, the whole story of Scripture as it is summed up in Jesus Christ, people will find authenticity and wholeness and, yes, liberation—and will do their best to extend that liberation to others. Maybe that's why the most vital Christianity is increasingly found in Africa, with believers too pinned in by Islamic persecution to fall for mammon worship, whether of the covetous revolutionary or jealous consumerist kinds.
Where anything other than Christ is preached, there is no truth offered, and thus, there is no freedom proclaimed. There may be shouts of affirmation or silently nodding heads, there may be left-wing politics or right-wing politics, there may be culturally liberal psychotherapy or culturally conservative psychotherapy, there may be almost anything people think they want, but there's nothing but judgment in the air.
Russell D. Moore is the author of Adopted for Life: The Priority of Adoption for Christian Families and Churches. He lives with his family in Louisville, Kentucky, where he serves as Dean of the School of Theology and Senior Vice-President for Academic Administration at The Southern Baptist Theological Seminary and as preaching pastor at Highview Baptist Church. He is a senior editor of Touchstone.
Not a subscriber? Subscribe to Touchstone today for full online access. Over 30 years of content!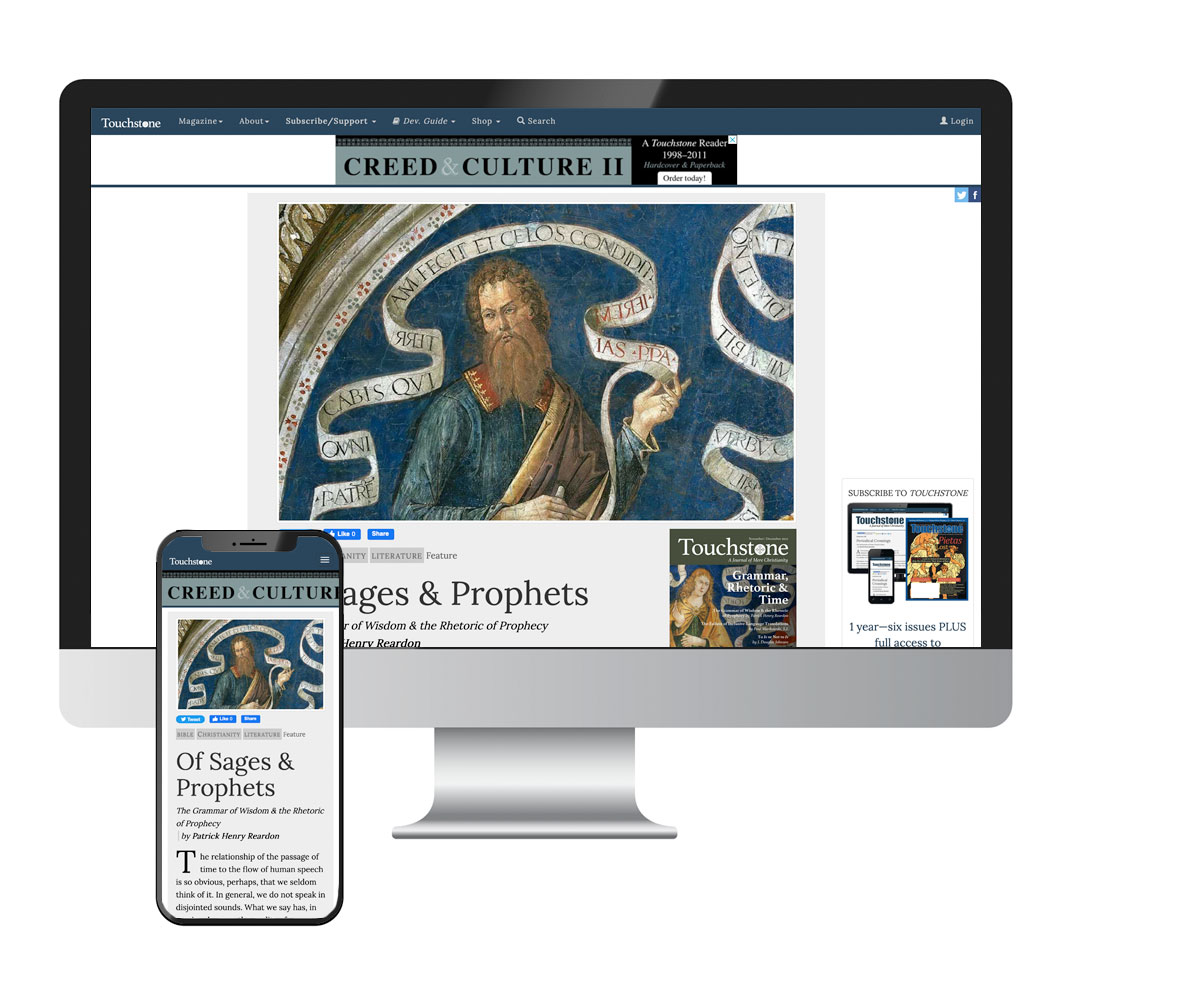 Get a one-year full-access subscription to the Touchstone online archives for only $19.95. That's only $1.66 per month!
Purchase Print &
Online Subscription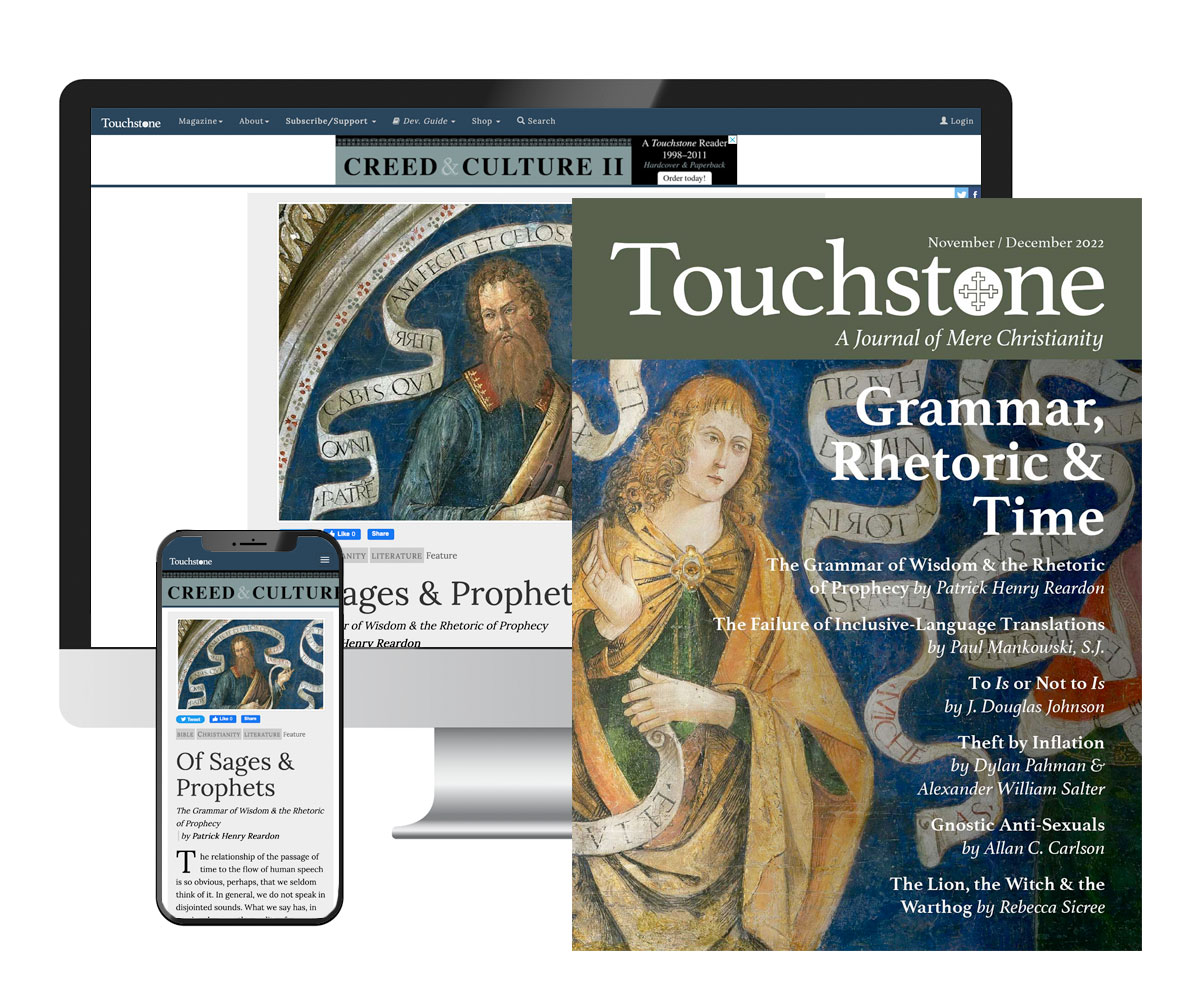 Get six issues (one year) of Touchstone PLUS full online access for only $29.95. That's only $2.50 per month!
Your subscription goes a long way to ensure that Touchstone is able to continue its mission of publishing quality Christian articles and commentary.
*Transactions will be processed on the secure server of The Fellowship of St. James website, the publisher of Touchstone.
from the touchstone online archives