For complete online access to
new issues of Touchstone, subscribe today!
---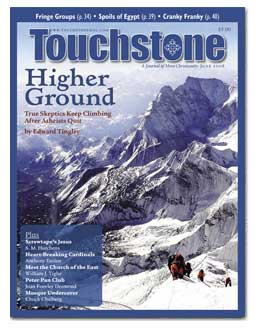 As God Gives Growth
by S. M. Hutchens



As It Is Written...
The Choirmaster
by Patrick Henry Reardon



Filtered Fringe
Righteous: Dispatches from the Evangelical Youth Movement
by Lauren Sandler
A review by Ryan T. Anderson

Fetal Positions
Defending Life: A Moral and Legal Case Against Abortion Choice
by Francis J. Beckwith
A review by Anne Hendershott

Simply Asking
Question to All Your Answers:
A Journey From Folk Religion to Examined Faith by Roger E. Olson
A review by Louis Markos

Egyptian Spoils
The Treasures of Coptic Art: In the Coptic Museum and Churches of Old Cairo
by Gawdat Gabra and Marianne Eaton-Krauss
A review by Mike Aquilina

Damaged Heir
Crazy for God by Frank Schaeffer
A review by Jason R. Edwards



The Skeptical Inquirer
If Only Atheists Were the Skeptics They Think They Are
by Edward Tingley

The Shadow of Nestorius
An Alienated but Enduring Church After the Third Ecumenical Council
by William J. Tighe



Screwtaped Saviors
S. M. Hutchens on the Endless Succession of Historical Jesuses

Mosque in Hiding
John C. Chalberg on Making Room for Prayer Rugs on a Secular Campus

Unmarried, Still Children
Joan Frawley Desmond on Children Who've Been Raised for Everything but Marriage

The Final Past Time
Anthony Esolen on What Baseball Could Have Taught the Greeks About Death



Every issue of Touchstone also contains short commentaries by our editors, notices of books you should know about, and our spirited letters section.