For complete online access to
new issues of Touchstone, subscribe today!
---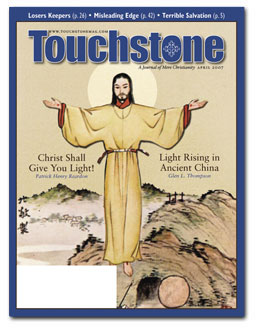 Dwelling in Tentatives
by David Mills

Terrible Salvation
by S. M. Hutchens



As It Is Written...
The Irreplaceables
by Patrick Henry Reardon



Youth in Formation
Four Scholars at Fordham Confront the Catholic Teen Dilemma
by Matthew G. Alderman



Water Works
Early and Medieval Rituals and Theologies of Baptism
& Reformation and Modern Rituals and Theologies of Baptism
by Bryan D. Spinks
A review by Peter J. Leithart

Wedded Best
The Meaning of Marriage: Family, State, Market & Morals
edited by Robert P. George and Jean Bethke Elshtain
A review by L. P. Fairfield

Eliot's Edifice
Dove Descending: A Journey into T. S. Eliot?s Four Quartets
by Thomas Howard
A review by Franklin Freeman

Misleading Edge
Intelligent Thought: Science Versus the Intelligent Design Movement edited by John Brockman
A review by Casey Luskin
& Anika Smith

Dual Unto Others
The Missing Gospels: Unearthing the Truth Behind Alternative Christianities
by Darrell L. Bock
A review by Mike Aquilina

A New Noah
The Creation: An Appeal to Save Life on Earth
by Edward O. Wilson
A review by Anne Barbeau Gardiner



The Son Risen with Healing
Biblical Aspects of the Easter Revolution
by Patrick Henry Reardon

Losers Keepers
The Liberating Power of Negative Thinking
by Annegret Hunter

Christ on the Silk Road
The Evidences of Nestorian Christianity in Ancient China
by Glen L. Thompson



Emancipation Bible
Robert P. George on the Pro-Choice Arguments for Slavery & Sodomy

The Rest of Leah
Bobby N. Winters on the End of the Wife Jacob Did Not Choose

Distant Neighbors
Amanda Witt on Keeping Children Innocent When Lesbians Move In

Nuclear Centers
Eric Miller on Finding Thick Community in the Receding West



Every issue of Touchstone also contains short commentaries by our editors, notices of books you should know about, and our spirited letters section.