For complete online access to
new issues of Touchstone, subscribe today!
---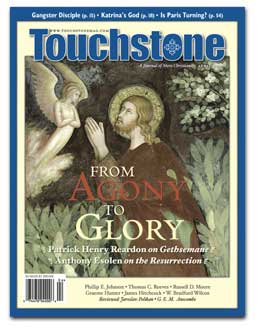 Our Bad
by James Hitchcock



The Leading Edge
From Soup To Science
by Phillip E. Johnson

Book Returns
History Rebuffed
by Thomas C. Reeves

As It Is Written...
John & the Agony
by Patrick Henry Reardon



Is Paris Turning?
Some Unexpected Signs of Christian Vitality in Post-Christian Europe
by Matthew W. Maguire

Membership Ruse
Will Methodist Courts Embrace "Gay" Methodists?
by Mark Tooley



A Philosopher's Gem
Human Life, Action And Ethics:
Essays By G. E. M. Anscombe edited by Mary Geach &
Luke Gormally
A review by Stewart Goetz

Nostra Scriptura
Whose Bible Is It? A History of the Scriptures Through the Ages
by Jaroslav Pelikan
A review by Patrick Gray

Woman of the World
The Other Faces of Mary
by Ann Ball
A review by David B. Kopel



The Agony of Gethsemane
On the Meaning of Christ's Prayer & His Obedience in the Garden
by Patrick Henry Reardon

Body & Soul Uplifted
Dante's Magnificent Vision of the Resurrection of the Flesh
by Anthony Esolen

The Baptist Headway
America's Largest Protestant Denomination & the Culture War
by Russell D. Moore



Death's Dominion
by Graeme Hunter

Gangster Disciple
by Preston Jones

The Cane Mutiny
by David Holford

Divine Disaster Plan
by Daniel Propson



Every issue of Touchstone also contains short commentaries by our editors, notices of books you should know about, and our spirited letters section.