For complete online access to
new issues of Touchstone, subscribe today!
---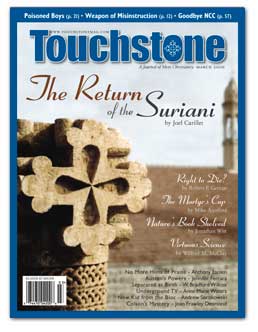 Virtuous Science
by Wilfred M. McClay



Book Returns
Weapon of Misinstruction
by Allan Carlson

As It Is Written...
Water Rescue
by Patrick Henry Reardon



NCC Exit Poll
Why One Orthodox Church Left the National Council of Churches
by Johannes L. Jacobse

New Kid From the Bloc
Will Ukraine Help to Reorient Post-Christian Europe?
by Andrew Sorokowski



New Life Sentence
Charles W. Colson:
A Life Redeemed
by Jonathan Aitken
A review by Joan Frawley Desmond

Lost Shepherd
A Passionate Pilgrim:
A Biography of
Bishop James A. Pike
by David M. Robertson
A review by Ian Hunter

Union Laborer
That They May All Be One:
The Call To Unity Today
by Walter Kasper
A review by Adam A. J. Deville

The Eyes of Beholders
On Beauty by Zadie Smith
A review by Mark Bauerlein



The Martyr's Cup
The Early Christians Give Us the Signs of the Christian Life: Broken Bread & Lives Poured Out
by Mike Aquilina

The Return of the Suriani
A Visit to a Christian Minority in Turkey That Refuses to Die
by Joel Carillet

Terminal Logic
Everyone Is a Person—No One Is "Mere Biological Life"
by Robert P. George

Nature's Book Shelved
Seeing Is Not Always Believing, But There Are Things the Unbeliever Should See
by Jonathan Witt



Taking the Tube Underground
Anne Marie Waters on Removing the Television from the Family Hearth

No More Hims of Praise
Anthony Esolen on the Contemptible Mutilation of Hymns

Austen's Powers
Jennifer Farrara on the Truths That Mr. Darcy Taught Me About Marital Love

Speed Trap
Robert Hart on Not Fixing Boys Who Aren't Broken



Every issue of Touchstone also contains short commentaries by our editors, notices of books you should know about, and our spirited letters section.