For complete online access to
new issues of Touchstone, subscribe today!
---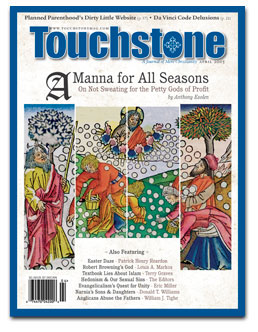 Freedom & Repentance
by James M. Kushiner

The Economy of Love
by S. M. Hutchens



As It Is Written...
The Resurrection Accounts
by Patrick Henry Reardon



The Young & the Hot-Wired
Planned Parenthood Teaches Teenagers Perversity's Best Techniques
by Dawn Eden



Reality . . . What a Concept!
Metaphors We Live By
by George Lakoff
and Mark Johnson
A review by Peter J. Leithart

Drunk & Driven
On Paradise Drive by David Brooks
A review by John C. Chalberg

Graced Lightning
Honky-Tonk Gospel
by Gene Edward Veith
and Thomas L. Wilmeth
A review by Russell D. Moore



A Manna for All Seasons
The Sabbath Challenge to the Petty Gods of Profit
by Anthony Esolen

Intimations of Incarnation
The Apologetic Vision of Robert Browning
by Louis Markos

Abusing the Fathers
The Windsor Report's Misleading Appeal to Nicea
by William J. Tighe



Elusive Unity
Eric Miller on Carl F. H. Henry's Vision for Evangelicalism

Lions of Succession
Donald T. Williams on Being a Free Narnian & the Joy of Subordination

Book Worms
Terry Graves on Textbook Publishers Who Lie About Islam

Gnostic Nonsense
Carl E. Olson on the Cure for the Common Code



Every issue of Touchstone also contains short commentaries by our editors, notices of books you should know about, and our spirited letters section.