Something That Doesn't Love a Wall
The world is divided into two categories: those who love neat, clear, divisions; and those who can live with, or even delight in, the doubtful border areas. The first delight in policing the boundaries, the second in exploring the liminal areas, as in Saki's story about "those uncomfortable piebald times when a third of the people were Pagan, and a third Christian, and the biggest third of all just followed whichever religion the Court happened to profess."
My mood varies: I see the importance of keeping black-and-white moral areas from dissolving into a uniform gray, but I feel that other things benefit from a lack of hard edges. With roots in an American Border State, I enjoy both lobster roll and spoon bread, in which I see a happy complementarity, not a contradiction.
Europeans wish that Germany and France could have seen in Alsace a via media instead of a battlefield. Alsatians especially wish it. Their capital, Strasbourg, now houses the European Parliament. Alsatians would like national identities to be blurred in a Europe composed of regions whose peace and security is guaranteed by new European structures.
Despite its German dialect, Alsace went to France in the seventeenth century. The Germans reclaimed it at the end of the Franco-Prussian War in 1870, and the French repossessed it in 1918. The Germans took it back again in 1940, and proceeded with a cruel program of Germanization: The government forbade the wearing of the beret (Das Tragen von Franzosenmutzen im Elsass ist verboten) and translated French names into German ones. "Granjean" became "Grosshaus," "Boulanger" "Becker," and "Meunier" "Müller." Alsatian boys were drafted into the SS. They came back to occupy France, and herded the villagers of Oradour into a church and burned them alive. These war criminals were, in French eyes, French citizens. Every European war is a civil war, but for Alsatians the conflict is within their souls.
Is Alsace French or German? When my family hiked there, we bounced back and forth between them. When it can't remember a German word, my mind throws in a French one. By law, after 1945, Alsatians speak French in public, but it's garnished with sauerkraut. I found congenial native speakers who said, "Je voudrais zwei Wurstchen, et mit senft, s'il vous plait," and who lived in Dambach-la-ville, Haut Koenigsbourg, Maison forestiere de Tollenloch, or Carrefour Müller-Appfel. They also speak Alsatian, a completely German dialect. In Turckheim, a night watchman sings an Alsatian hymn at the city gates: "God geb uns all a good nat." I wondered if the Alsatian was for tourists, but in a small hotel, in which my room was over the kitchen, I heard Alsatian during washing-up. It survives.
Alsatians, when not growing vines or praying, built fortifications. The Pagan Wall, six miles long and still ten feet high in places, is pre-Roman, and surrounds the chief pilgrimage church of Alsace, Mont St. Odile. Every crag has its ruined castle, built and then destroyed in the endless border warfare between French and Germans. From a ruined castle 25 miles away we first spotted the towers of Strasbourg Cathedral, of which Goethe wrote: "My soul was infused with a feeling of immense grandeur which, because it consisted in thousands of harmonizing details, I was able to savor and enjoy, but may by no means understand and explain. They say it is thus with the joys of heaven, and how often I returned to savor such joys on earth, to embrace the gigantic spirit expressed in the work of our brothers of yore!" The "our brothers" stakes out Strasbourg as German. Like the Germans at times, the cathedral combines beauty and terror into the sublime. It is awesome, even alien. It towers like the kingdom of God. Inside it is so vast that it loses all human scale. It was not built for human beings, and scarcely looks like it was built by them.
In Colmar, at the start of our journey, we saw the Isenheim altar of Mathis der Maler. Grunewald depicted a Christ so tortured that the painting became hallucinogenic. It was for the insane, who saw him suffering as they did. They had St. Anthony's Fire, ergot poisoning, from an analogue of LSD, the same poison that may have provoked the Salem witch trials.
Rationality and peace are rare; a society can be destroyed from both without and within. Europe has made peace with itself and its past; religion and ideology and nationalism have ended in exhaustion and a desire to enjoy the small pleasures of life, and they are true pleasures: the vine, the shaded mountain path, the half-timbered town overflowing with flowers. But the police broke up an Islamicist plot to bomb the Strasbourg Christmas market of 2000.
Europe's nightmares are not yet over. It has rejected the transcendent hope of another world and the only One who can give meaning to the suffering that comes unexpectedly in this world, even to the peaceful corners of Alsace, between a Germany and a France who have at last made peace.
Leon J. Podles holds a Ph.D. in English from the University of Virginia and has worked as a teacher and a federal investigator. He is the author of The Church Impotent: The Feminization of Christianity and the forthcoming License to Sin (both from Spence Publishing). Dr. Podles and his wife have six children and live in Naples, Florida. He is a senior editor of Touchstone.
Not a subscriber? Subscribe to Touchstone today for full online access. Over 30 years of content!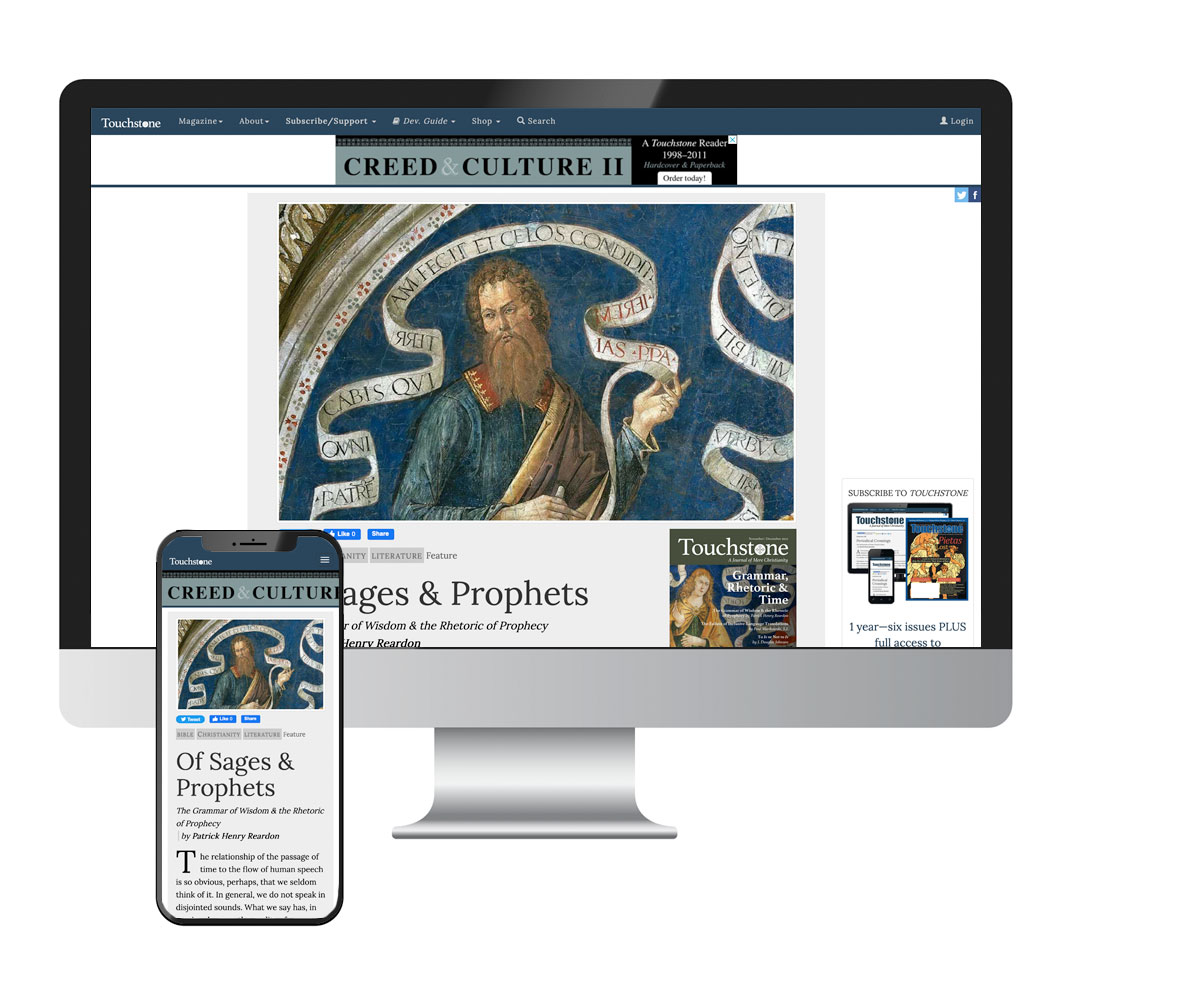 Get a one-year full-access subscription to the Touchstone online archives for only $19.95. That's only $1.66 per month!
Purchase Print &
Online Subscription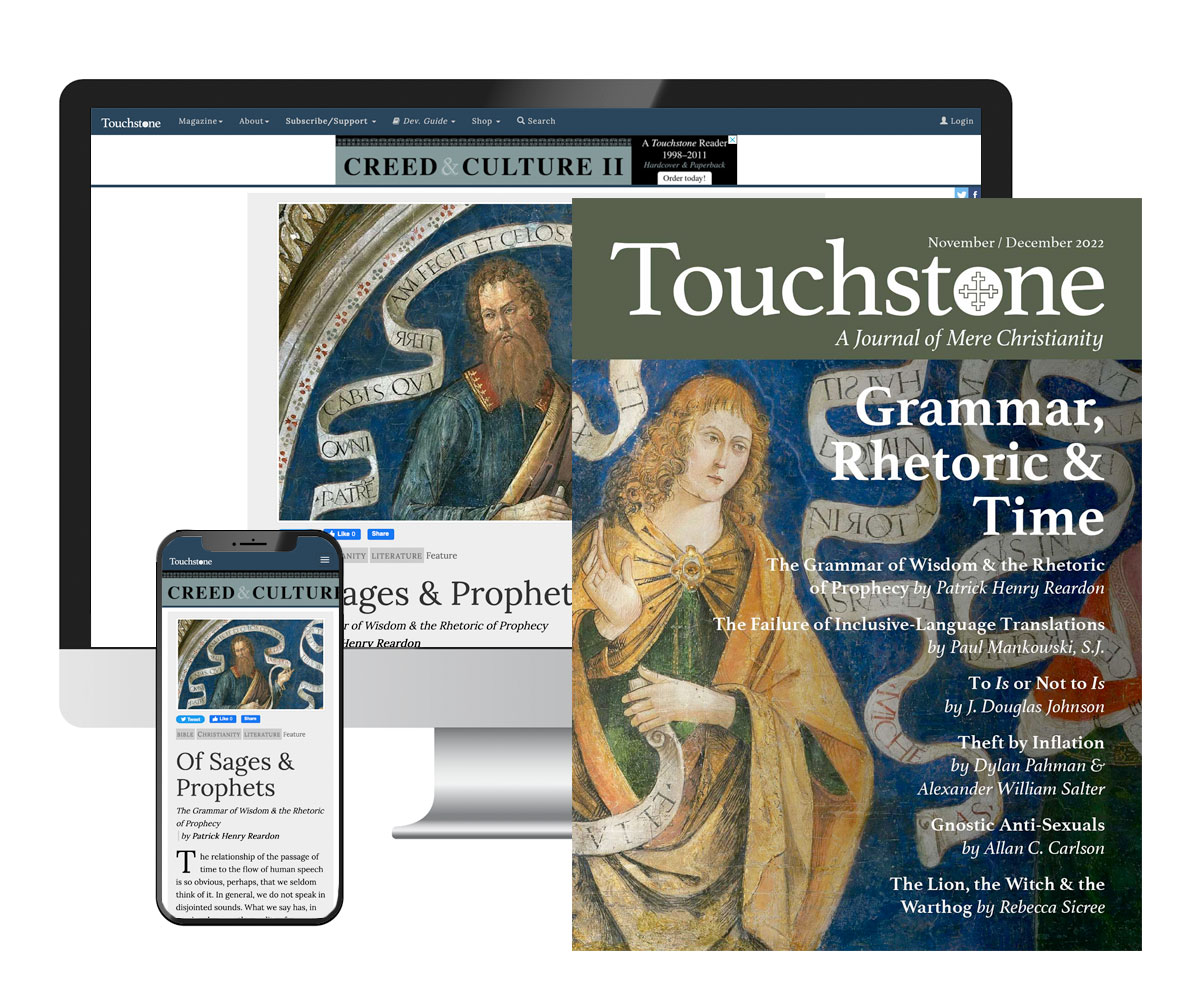 Get six issues (one year) of Touchstone PLUS full online access for only $29.95. That's only $2.50 per month!
Your subscription goes a long way to ensure that Touchstone is able to continue its mission of publishing quality Christian articles and commentary.
*Transactions will be processed on the secure server of The Fellowship of St. James website, the publisher of Touchstone.
from the touchstone online archives