For complete online access to
new issues of Touchstone, subscribe today!
---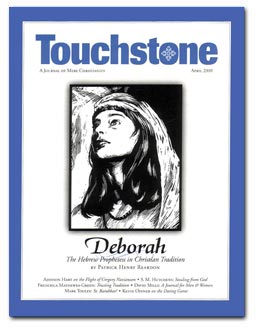 A Journal for Men & Women
by David Mills



Practical Christianity
Indescribable Happiness
by Thomas S. Buchanan



St. Barabbas?
The New Martyrs of the Religious Left
by Mark Tooley



A Serious Wake-Up Call
Christendom Awake
by Aidan Nichols, O.P.
A review by Leon J. Podles

Courtship for Christians
Her Hand in Marriage
by Douglas Wilson
A review by Kevin Offner

The Rise of the Megachurch
Reinventing American Protestantism
by Donald E. Miller
A review by Brad Stetson



Judge Deborah
The Hebrew Prophetess in Christian Tradition
by Patrick Henry Reardon

Between Two Fears
Why Gregory Nazianzen Ran Away from the Priesthood: A Reflection on His Second Oration
by Addison H. Hart



Stealing from God
S. M. Hutchens on the Eighth Commandment

Trusting Tradition
Frederica Mathewes-Green on What We Believe



Every issue of Touchstone also contains short commentaries by our editors, notices of books you should know about, and our spirited letters section.