For complete online access to
new issues of Touchstone, subscribe today!
---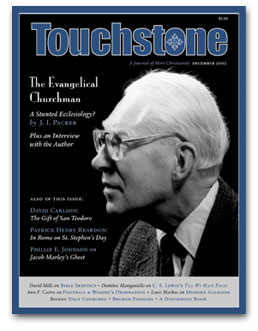 Years of the Locust
by S. M. Hutchens



The Leading Edge
How Much Does It Cost?
by Phillip E. Johnson

The Matter At Hand
Cubist Scripture
by Leon J. Podles

As It Is Written...
Most Excellent Theophilus
by Patrick Henry Reardon



Church Ugly
Ugly As Sin
by Michael S. Rose
& Reconquering Sacred Space 2000
A review by Catesby Leigh

Restoring the Family
There?s No Place Like Work
by Brian C. Robertson
A review by Kevin J. Doyle

A Dangerous Book
A Third Testament
by Malcolm Muggeridge
A review by Preston Jones



An Inconclusive Replay
Is There Conclusive Evidence for Women's Ordination?
by Ann F. Castro

The Mythic Christ
Frazer's Dying God in C. S. Lewis's Till We Have Faces
by Dominic Manganiello

A Stunted Ecclesiology?
The Theory & Practice of Evangelical Churchliness
by J. I. Packer



East Meets West in Rome
Patrick Henry Reardon on an Ecumenical Experiment

The Bridge of San Teodoro
David Carlson on East Meeting West in Rome, Part II

The Bible as Metaphor
David Mills on Nuancing the Scriptures for Modern Man

The Heirs of Galileo
Louis Markos on Evolution & Reasonable Science



Pondering Anglican Woes
An Interview with J. I. Packer



Every issue of Touchstone also contains short commentaries by our editors, notices of books you should know about, and our spirited letters section.