For complete online access to
new issues of Touchstone, subscribe today!
---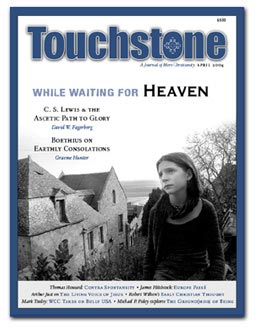 Europe Passé
by James Hitchcock



Practical Christianity
The Lost Art of Mercy
by Thomas S. Buchanan

As It Is Written...
Hidden in Christ
by Patrick Henry Reardon



World-Class Bully
The World Council of Churches Takes On a Superpower
by Mark Tooley

Stem-Cell Options
A Report from the President's Council on Bioethics
by Robert P. George



Biblical Fathers
The Spirit of Early
Christian Thought
by Robert Louis Wilken
A review by Mike Aquilina

Fantastic Saga
Blood and Judgment
by Lars Walker
A review by Dale Nelson

Dante's New Guide
Inferno & Purgatory
by Dante Alighieri,
edited and translated
by Anthony Esolen
A review by R. V. Young



Boethius?s Complaint
Can the Christian Find Consolation Without Christ?
by Graeme Hunter

Between Heaven & Earth
C. S. Lewis on Asceticism & Holiness
by David W. Fagerberg

Today in Our Hearing
The Living Voice of Jesus in the Gospel of Luke
by Arthur A. Just



Phil's Shadow
Michael P. Foley on the Lessons of Groundhog Day

Credible Marriages
Louis R. Tarsitano on the Christian Destruction of Marriage

Contra Spontaneity
Thomas Howard on Christian Ritual

Choice Superstition
Patrick Gray on Abortion Rhetoric & Common Sense



Every issue of Touchstone also contains short commentaries by our editors, notices of books you should know about, and our spirited letters section.