For complete online access to
new issues of Touchstone, subscribe today!
---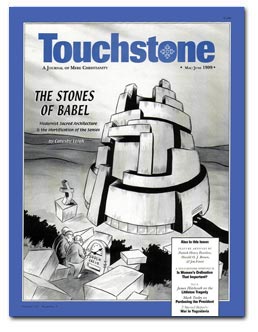 No Answer for Littleton
by James Hitchcock



Practical Christianity
The Heresy of Choice
by Thomas S. Buchanan



Not the Chaplain of Ethnic Cleansing
The Orthodox Church in Serbia
by Jim Forest



Presidential Pardon?
From the Eye of the Storm
by J. Philip Wogaman
Judgement Day at the White House
edited by Gabriel Fackre
A review by Mark Tooley

Christians & Conservation
Sex, Economy, Freedom,
and Community
by Wendell Berry
Creation at Risk?
edited by Michael Cromartie
Redeeming Creation
by Fred Van Dyke et al.
A review by Preston Jones



A Christian Women's Declaration
On Coalitions & Biblical Orthodoxy
With contributions by
Mary Ellen Bork,
Donna F. G. Hailson,
S. M. Hutchens,
Diane Knippers,
James M. Kushiner,
Frederica Mathewes-Green,
Joy Moore
& Mary Podles



The Stones of Babel
Modernist Sacred Architecture & the Mortification of the Senses
by Catesby Leigh

Christian Types, Christian Virtues, Christian Unity
The Evangelical Path to Christian Unity
by Jim Forest

Status Confessionis
The State of the World, in Which the Church Must Stand by Her Confession
by Harold O. J. Brown

Under the Gaze of God & Angels
The Meaning of Tobit for the Christian Reader
by Patrick Henry Reardon



Little Kings & Local Affinities
Louis R. Tarsitano on Identity Politics & the Christian



Every issue of Touchstone also contains short commentaries by our editors, notices of books you should know about, and our spirited letters section.