For complete online access to
new issues of Touchstone, subscribe today!
---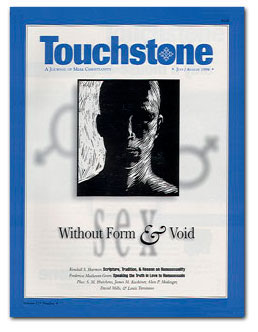 Rationality & Revelation: C. S. Lewis & Lambeth
by David Mills



Practical Christianity
On Well-Worn Doormats
by Thomas S. Buchanan



The Erring Carl Jung
The Aryan Christ:
The Secret Life of Carl Jung
by Richard Noll
A review by Richard Kew



Sex Without Form & Void
Scripture, Tradition & Reason on Homosexuality
by Kendall S. Harmon

Facing the Homosexual Void
Speaking the Truth in Love to Homosexuals
by Frederica Mathewes-Green

To See Truly Through a Glass Darkly
C. S. Lewis, George Orwell, & the Corruption of Language
by David Mills

Church Women Unorthodox
The Theological Corruption of Church Women United
by Donna F. G. Hailson



Lambeth & the Ways of Sex
by Louis R. Tarsitano

What Harm Can It Do to Study the Issue?
Alan P. Medinger on Homosexuality

Objectively Disordered
by Peter Toon

Homosexuality & Teen Suicide
by Alan P. Medinger



Every issue of Touchstone also contains short commentaries by our editors, notices of books you should know about, and our spirited letters section.