For complete online access to
new issues of Touchstone, subscribe today!
---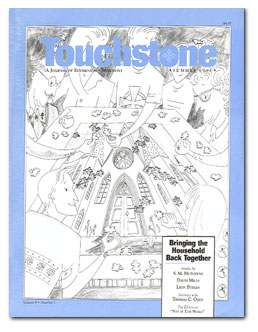 The Pope & the Buddhists
by Patrick Henry Reardon

The Editors at Rose Hill
by Samuel L. Edwards,
James Hitchcock,
James M. Kushiner,
Frederica Mathewes-Green
& Patrick Henry Reardon



Practical Christianity
Wrestling for Jesus
by Thomas S. Buchanan



Nothing to Celebrate
A Report from an Ecumenical Student Conference
by Mark Tooley



What's Going on in Seminary?
Requiem
by Thomas C. Oden
Calling Church and Seminary
into the 21st Century
by Donald F. Messer
Truth and Tradition
edited by Neal F. Fisher
A review by John Thompson



All That Separates Must Converge
The Fragmentation of Christianity & the Unity of the Faith
by Leon J. Podles

My Brother, Be He Ne'er So Vile?
The Difficulty & Promise of Catholic-Evangelical Rapprochement: An Address to an Evangelical Congregation
by S. M. Hutchens

A Hope of Collapsing Churches
The Present Malaise & Future Hope of the Mainline Churches
by David Mills



Turning Hearts to the Fathers
A Conversation With Thomas C. Oden



Every issue of Touchstone also contains short commentaries by our editors, notices of books you should know about, and our spirited letters section.