For complete online access to
new issues of Touchstone, subscribe today!
---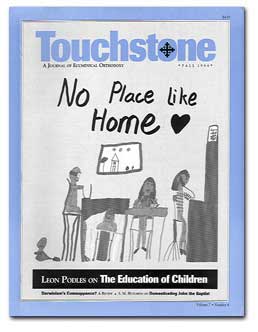 Evangelicals & Catholics—Together?
by Patrick Henry Reardon



Practical Christianity
Life, Liberty, & the Pursuit of God
by Thomas S. Buchanan



Philosophy Disguised as Science
Darwin on Trial by Phillip Johnson
A review by Brian McDonald



No Place Like Home
A Personal Look at the Education of Children: Public, Private & Domestic
by Leon J. Podles

Dwelling in Us Richly
On Meditating & Contemplating as One Is "In Christ"
by Peter Toon

More Than a Prophet
The Ministry of John the Baptist
by S. M. Hutchens

Whose Land?
The Holy Land in Biblical Theology
by Gary Burge



Every issue of Touchstone also contains short commentaries by our editors, notices of books you should know about, and our spirited letters section.