For complete online access to
new issues of Touchstone, subscribe today!
---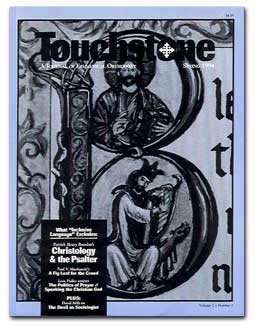 The Devil Is a Good Sociologist
by David Mills



Practical Christianity
The Chief Sinner
by Thomas S. Buchanan



Finding Wisdom in Canada
by James M. Kushiner



He Is Lord, He Is God!
Speaking the Christian God: The Holy Trinity and the Challenge of Feminism edited by Alvin F. Kimel, Jr.
A review by Leon J. Podles



Christology & the Psalter
How "Inclusive Language" Emasculates the Psalms
by Patrick Henry Reardon

A Fig Leaf for the Creed
"Inclusive Language" Comes to Mass
by Paul Mankowski

Avoiding Spirituality
A Philistine Looks (Obliquely) at Spirituality
by S. M. Hutchens

A Moral Redoubt in the Heartland
The Culture of the Plains States
by Anthony Harrigan



Every issue of Touchstone also contains short commentaries by our editors, notices of books you should know about, and our spirited letters section.