For complete online access to
new issues of Touchstone, subscribe today!
---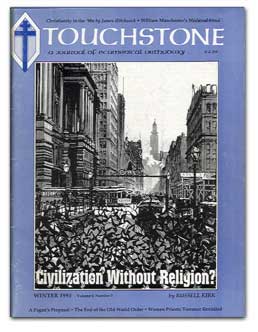 In Stillness Tried
by James Hitchcock



Practical Christianity
Piety & Popularity
by Thomas S. Buchanan



Civilization Without Religion?

by Russell Kirk

A Pagan's Proposal
Moral Education for a Decadent Society
by Jeffry Davis

A Confessional Church in a Pluralistic World

by James R. Edwards

Women Priests
A Response to Thomas F. Torrence
by Patrick Henry Reardon



The End of the Old World Order
James L. Sauer on George Moncrieff-Scott's Burke Street



Every issue of Touchstone also contains short commentaries by our editors, notices of books you should know about, and our spirited letters section.