For complete online access to
new issues of Touchstone, subscribe today!
---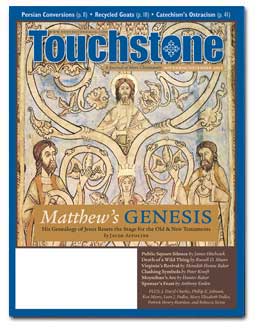 Square None
by James Hitchcock



The Leading Edge
Persian Conversions
by Phillip E. Johnson

Contours of Culture /
From Heavenly Harmony
Easter & Ethics
by Ken Myers

Illuminations
Creator of the Stars of Night
by Anthony Esolen

A Thousand Words
Raphael's Alba Madonna
by Mary Elizabeth Podles

As It Is Written...
The Lover of Mankind
by Patrick Henry Reardon



Catechism's Ostracism
Bad Religion: How We Became a Nation of Heretics by Ross Douthat
A review by Leon J. Podles

Humanity's Nature
Nature's End: The Theological Meaning of the New Genetics by Richard Sherlock
A review by J. Daryl Charles



Matthew's Genesis
The Genealogy of Jesus Resets the Stage for the Old & New Testaments
by Jacob Affolter

Virginia's Revival Fire
The Story of One Culture's Spiritual Rise from the Literal Ashes
by Meredith Henne Baker

Clashing Symbols
The Loss of Aristotelian Logic & the Social, Moral & Sexual Consequences
by Peter Kreeft



Death of a Wild Thing
Russell D. Moore on Maurice Sendak & the Horror of a Domesticated Gospel

Moynihan's Family Arc
Hunter Baker on the Missing Element in a Government Jobs Strategy

The Recycled Goat
Rebecca Sicree on the Adventures of Gift-Giving in a Large Family

Spenser's Feast
Anthony Esolen on the Theological Depth of a Neglected Wedding Hymn



Every issue of Touchstone also contains short commentaries by our editors, notices of books you should know about, and our spirited letters section.