For complete online access to
new issues of Touchstone, subscribe today!
---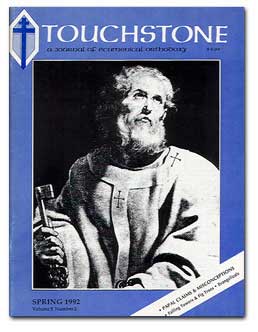 Just Another Religion?
by James M. Kushiner



Papal Claims
Beyond the Misconceptions
by Thomas A. Baima

St. Basil Goes to Washington
The Fathers of the Church Go Before the United States Supreme Court on Behalf of the Unborn
by Paul Farley
& James George Jatras



On Falling Towers and Fig Trees
by S. M. Hutchens



Every issue of Touchstone also contains short commentaries by our editors, notices of books you should know about, and our spirited letters section.