For complete online access to
new issues of Touchstone, subscribe today!
---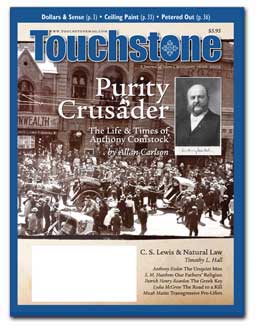 Mere Economics
by James M. Kushiner



Life Sentences
Road to a Kill
by Lydia McGrew

As It Is Written...
The Temple & the World
by Patrick Henry Reardon



The Gospel & the Prophet
American Christians and Islam: Evangelical Culture and Muslims from the Colonial Period to the Age of Terrorism by Thomas S. Kidd
A review by Sandra Tonies Keating

Ceiling Paint
Michelangelo and the Sistine Chapel by Andrew Graham-Dixon
A review by Mary Podles

Intimations of the Word
Is There a Universal Grammar of Religion? by Henry Rosemont, Jr. & Huston Smith
A review by Addison H. Hart

Petered Out
Keepers of the Keys of Heaven: A History of the Papacy by Roger Collins
A review by Ryan Sayre Patrico

Society's Lord
Christ and Culture Revisited by D. A. Carson
A review by Brad Green



Pure Visionary
The Life & Times of Anthony Comstock, Moral Crusader
by Allan Carlson

A Law for All Seasons
C. S. Lewis on Civilization & the Natural Order
by Timothy L. Hall



The Unquiet Men
Anthony Esolen on Those Who Are Leaving the Reservation

The Greek Key
Patrick Henry Reardon on Divine Providence & the Macedonian Call

Our Fathers' Religion
S. M. Hutchens on Mere Christianity That Is Not Merely Mine

Shock Value
Micah Mattix on Pro-Life Transgressions of the Avant-Garde



Every issue of Touchstone also contains short commentaries by our editors, notices of books you should know about, and our spirited letters section.