For complete online access to
new issues of Touchstone, subscribe today!
---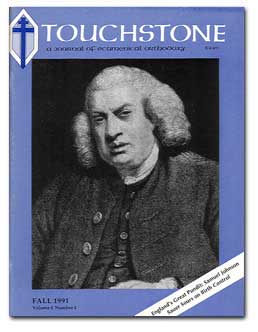 Scripture, Inerrancy, & the Church
by J. I. Packer



Samuel Johnson on The Runaway Imagination

by Wayne Martindale

Whose Side is Christ On?

by Craig Payne

Eastern Christians & Western Problems

by Patrick Henry Reardon

Creed & Spirituality

by Addison H. Hart

Don't Just Say "No!"
A Second Look at Birth Control
by James L. Sauer



Every issue of Touchstone also contains short commentaries by our editors, notices of books you should know about, and our spirited letters section.