For complete online access to
new issues of Touchstone, subscribe today!
---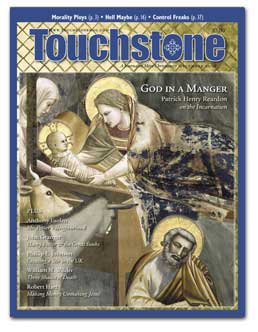 Morality Ploys
by James Hitchcock



The Leading Edge
Creating a Stir
by Phillip E. Johnson

As It Is Written...
The Daughter of Abraham
by Patrick Henry Reardon



Old Disharmony
Original Sin: A Cultural History by Alan Jacobs
A review by Amanda Shaw

Damage Control
Power, Love and Evil: Contribution to a Philosophy of the Damaged by Wayne Cristaudo
A review by Peter J. Leithart

Control Freaks
Fatal Misconception: The Struggle to Control World Population by Matthew Connelly
A review by Joseph A. D'Agostino



Savior in a Manger
Early Christian Teaching on the Incarnation & Redemption
by Patrick Henry Reardon

Book Binders
What I Learned About the Great Books & Harry Potter
by John Granger



Potterville Nation
Anthony Esolen on the Wonderful Life Most Think Impoverished

Shades of Death
William N. Wilder on Three Tales & the Demise of the Last Enemy

Hell's Back
Mark Tooley on a Surprising Mainline Descent into Gehenna

Faking a Bundle
Robert Hart on Lucrative Careers & Pseudo-Biblical Scholarship



Every issue of Touchstone also contains short commentaries by our editors, notices of books you should know about, and our spirited letters section.