For complete online access to
new issues of Touchstone, subscribe today!
---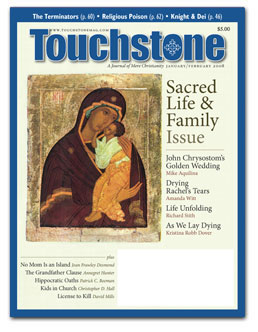 License to Kill
by David Mills




Radio Free Pittsburgh
by Phyllis Zagano

As It Is Written...
Highest Noon
by Patrick Henry Reardon



The Terminators
London Conference Reviews Widespread Deadly Care
by Anne Barbeau Gardiner

Staying Power
Does Religion Really Poison Everything?
by Logan Paul Gage



Sister Amiss
Aimee Semple McPherson and the Resurrection of Christian America
by Matthew Avery Sutton
A review by S. M. Hutchens

Knight & Dei
Sir Ninian Comper: An Intorduction to His Life and Work With Complete Gazetteer
A review by Matthew G. Alderman

Precious Poet
William Cowper: Selected Poetry and Prose
edited by David Lyle Jeffrey
A review by Thomas Howard

Victorian Faith
Pressing Forward: Alfred, Lord Tennyson and the Victorian Age
by Louis A. Markos
A review by Anne Barbeau Gardiner

Hermit Life
Camaldolese Spirituality
by Peter-Damian Belisle
In Praise of Hiddenness
by a Camaldolese hermit, edited by Fr. Louis-Albert Lassus, O.P.
A review by Richard Upsher Smith, Jr.



One Flesh of Purest Gold
John Chrysostom's Discovery of the Blessings & Mysteries of Marriage
by Mike Aquilina

Remember Who You Are
Why Blood Matters, and Matters Not at All
by Amanda Witt

Arresting Development
Human Beings Don't Roll Off an Assembly Line
by Richard Stith

Spiritual Morphine
The Delusory Hope of Dying on Your Own Terms
by Kristina Robb Dover



Grandfather Clause
Annegret Hunter on Grumpy Old Men & Their Grandchildren

Baby Pew Sitters
Christopher D. Hall on the Disservice of Children's Church

Hippocrates Seduced
Patrick C. Beeman on the Loss of Life in Modern Medical Oaths

No Mom Is An Island
Joan Frawley Desmond on Maternal Connections & the End of Roe



Every issue of Touchstone also contains short commentaries by our editors, notices of books you should know about, and our spirited letters section.