For complete online access to
new issues of Touchstone, subscribe today!
---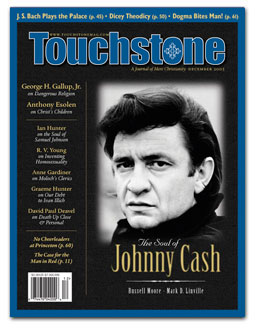 Unadulterated Words
by David Mills



Book Returns
Untenured Radical
by Graeme Hunter

As It Is Written...
Creation & Christ
by Patrick Henry Reardon



A Crucial Unity
The Grim Realities of Ecumenism Today
by Raymond J. Keating

Dogma Bites Man
On the New & Biased Research Linking Faith & Social Ills
by George H. Gallup, Jr.



Moloch's Clerics
Sacred Work by Tom Davis
A review by Anne Barbeau Gardiner

Courtly Culture War
Evening In The Palace Of Reason
by James R. Gaines
A review by Timothy A. Smith

Irenic Encounters
Three Views on Eastern Orthodoxy and Evangelicalism
edited by James Stamoolis
A review by Warren Farha

Social Gospel Apostle
The Kingdom Is
Always but Coming
by Christopher H. Evans
A review by Eric Miller

Dicey Theodicy
The Problem of Evil and the Problem of God
by D. Z. Phillips
A review by Graeme Hunter



A Catholic Grief Observed
How the Loss of a Loved One Is an Unexpected Gain
by David Paul Deavel

Pilgrim Johnson
The Author of the 250-Year-Old Dictionary Was a True Man of the Word
by Ian Hunter

The Gay Invention
Homosexuality Is a Linguistic as Well as a Moral Error
by R. V. Young



Yes, Aquinas,
There Is a Santa Claus
Nathan Schlueter on a Disputation in the Scholastic Tradition

A Mighty Child
Anthony Esolen on an Apostle's Encounter with the Son's Children

Interrogatory Prayer
Bill Gnade on the Questions We Don't Ask

Real Hard Cash
Russell D. Moore on the Path of the Man in Black

Just As He Was
Mark D. Linville on Why Johnny Cash Sang from His Mother's Hymn Book



Every issue of Touchstone also contains short commentaries by our editors, notices of books you should know about, and our spirited letters section.