For complete online access to
new issues of Touchstone, subscribe today!
---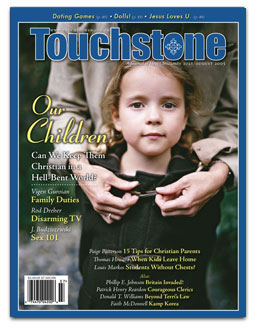 Pastors Courageous
by Patrick Henry Reardon

Chest Errors
by Anthony Esolen



The Leading Edge
Religious War & Peace
by Phillip E. Johnson

As It Is Written...
Tychicus of Asia
by Patrick Henry Reardon



Kamp Korea
The Eye-Opening Truth About North Korea's Regime
by Faith McDonnell

The Thick & Thin Man
Walter Brueggemann's Penumbral Notions & Theatrical Sense
by Mark Tooley



Triple Date
Christian Courtship in
an Oversexed World
by T. G. Morrow,
Couples in Love
by John R. Waiss,
Ask Me Anything
by J. Budziszewski
A review by Mike Aquilina

I Am a Rock
I am Charlotte Simmons
by Tom Wolfe
A review by Franklin Freeman

Jesus Loves U.
God on the Quad
by Naomi Schaefer Riley
A review by Joseph M. Knippenberg



Designed for Sex
What We Lose When We Forget What Sex Is For
by J. Budziszewski

One Big Ad Campaign
How the Media Try to Separate Your Children from Your Values
by Rod Dreher

Family Offices
Teaching Children to Love Being Sons & Daughters
by Vigen Guroian



Generations of Faith
Thomas Howard on Giving God Grandchildren

Lesson Plan
Paige Patterson on Fifteen Principles of Christian Parenting

Excluded Middle School
Louis Markos on Why C. S. Lewis Was Right About Chests

Dolly Baby Boom
Ian Hunter on the Vanishing Children of Men

Legal Evils
Donald T. Williams on What Thomas More Might Have Said About Schiavo's Judges



Every issue of Touchstone also contains short commentaries by our editors, notices of books you should know about, and our spirited letters section.