For complete online access to
new issues of Touchstone, subscribe today!
---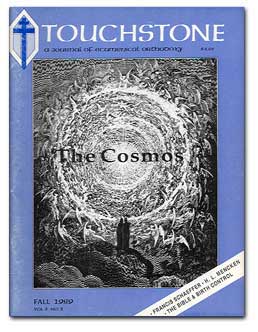 The Bible & Birth Control
The Bible and Birth Control by Charles D. Provan
A review by Scott Hahn



Creator of Heaven & Earth

by Richard S. Hess

The Man for Whom the World was Made

by George L. Murphy

To H*L with Mencken

by James L. Sauer

Francis Schaeffer's Double-Edged Ethic

by Peggy J. Haslar

The Church in Burma
Twenty-Five Years of Isolation
by Maung Maung

"Fears May Be Liars"

by Steven Faulkner



Hope in Haiti?
An Interview with Jean Bertrand Aristide



Every issue of Touchstone also contains short commentaries by our editors, notices of books you should know about, and our spirited letters section.