For complete online access to
new issues of Touchstone, subscribe today!
---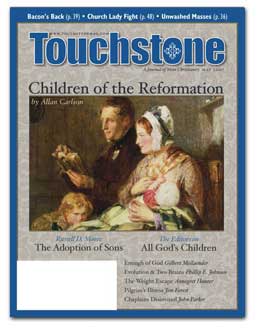 All God's Children
by James M. Kushiner
& David Mills



The Leading Edge
The Two-Brain Solution
by Phillip E. Johnson

As It Is Written...
Two Ladies at Odds
by Patrick Henry Reardon



Marital Bedrock
Conjugal America: On the Public Purposes of Marriage
by Allan Carlson
A review by Robert W. Patterson

Dutch Death
Murder in Amsterdam: The Death of Theo Van Gogh and the Limits of Tolerance
by Ian Buruma
A review by Joan Frawley Desmond

Unwashed Masses
Through Their Own Eyes: Liturgy as the Byzantines Saw It
by Robert F. Taft, S.J.
A review by Mike Aquilina

American Faust
The Remarkable Life of John Murray Spear, Agitator for the Spirit Land
by John Benedict Buescher
A review by Anne Barbeau Gardiner

Bacon's Back
The Religious Foundation of Francis Bacon's Thought
by Stephen A. McKnight
A review by Peter J. Leithart



Children of the Reformation
A Short & Surprising History of Protestantism & Contraception
by Allan Carlson

The Brotherhood of Sons
What Some Rude Questions About Adoption Taught Me About the Gospel of Christ
by Russell D. Moore



Enough of God
Gilbert Meilaender on Losing Him in Translation

Benediction Fiction
John Parker on the Dishonesty of Inclusive Prayers

Pilgrim's Illness
Jim Forest on the Spiritual Journeys of the Sick & the Dying

Reduced to Tears
Annegret Hunter on Taking the Body Too Seriously



Every issue of Touchstone also contains short commentaries by our editors, notices of books you should know about, and our spirited letters section.