For complete online access to
new issues of Touchstone, subscribe today!
---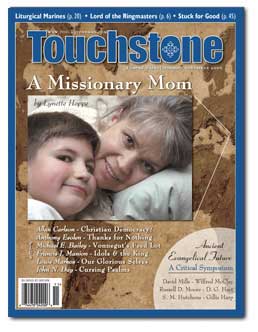 Thank God We're Not Equal
by Anthony Esolen



Book Returns
Life in a Feed Lot
by Michael E. Bailey

As It Is Written...
Handling the Holy
by Patrick Henry Reardon



Trapped by Liberty
Stuck With Virtue: The American Individual and Our Biotechnological Future
by Peter Augustine Lawler
A review by Anne Hendershott

Priest of the Cosmos
The Day Without Yesterday: Lemaître, Einstein, and the Birth of Modern Cosmology
A review by Guillermo Gonzalez
& Jay W. Richards

Fighting Herod
The Physicians? Crusade Against Abortion
by Frederick N. Dyer
A review by John F. Quinn

The Polish Factor
Memory and Identity: Conversations at the Dawn of a Millennium
by Pope John Paul II
A review by Mark Wegierski

The Scarlet Thread
From Witchery to Sanctity: The Religious Vicissitudes of the Hawthornes
by Otto and Katharine Bird
A review by Franklin Freeman

Reformed Schools
Protestant Theology and the Making of the Modern German University
by Thomas Albert Howard
A review by S. M. Hutchens



Back & Forth to the Future
A Critical Symposium on A Call to an Ancient Evangelical Future
With contributions by
Gillis J. Harp,
D. G. Hart,
S. M. Hutchens,
Wilfred M. McClay,
David Mills
& Russell D. Moore



The Pillars of Imprecation
How to Pray for Your Enemies by Praying Against Them
by John N. Day

The Long Culture War
The Christian Democratic Response to Modernity & Materialism
by Allan Carlson



Vessels of Honor
Louis Markos on All the Glory We Can Hold

Missionary Moms
Lynette Hoppe on the Advantages of Having Children in a Foreign Land

Idols & the King
Francis J. Manion on What the First Commandment Has to Do with the Fourth of July

Rites & Wrongs of Passage
An Episcopal Priest on Casual Ministers & Reverent Marines



Every issue of Touchstone also contains short commentaries by our editors, notices of books you should know about, and our spirited letters section.