A Journal of Mere Christianity
Published by:
The Fellowship of St. James
P.O. Box 410788
Chicago, IL 60641
---
Touchstone is a Christian journal, conservative in doctrine and eclectic in content, with editors and readers from each of the three great divisions of Christendom —Protestant, Catholic, and Orthodox.
The mission of the journal and its publisher, The Fellowship of St. James, is to provide a place where Christians of various backgrounds can speak with one another on the basis of shared belief in the fundamental doctrines of the faith as revealed in Holy Scripture and summarized in the ancient creeds of the Church.
Read what others are saying about Touchstone
Senior Editors

Dr. Allan C. Carlson earned his PhD. in Modern European History from Ohio University. He is the President emeritus and founder of the Howard Center for Family, Religion, and Society in Rockford IL, where he continues to serve as editor of The Family in America. He was also a visiting professor of history at Hillsdale College in Michigan.
Dr. Carlson has written extensively on issues of family and society. Among his most recent publications are: Godly Seed: American Evangelicals Confront Birth Control 1873-1973 (Transaction Publishers); Conjugal America: On the Public Purpose of Marriage (Transaction Publishers); and Third Ways: How Bulgarian Greens, Swedish Housewives, and Beer Swelling Englishmen Created Family-Centered Economies – And Why They Disappeared (ISI). His work is also widely published, both in the states and abroad, in such avenues as The Washington Post, the New Oxford Review, The Intercollegiate Review; The University Bookman, Communio, The Chesterton Review; Caelum et Terra, and The Wall Street Journal.
Dr. Robert P. George lectures on constitutional law, civil liberties, and philosophy of law at Princeton University, where he is the McCormick Professor of Jurisprudence. George also serves as the director of Princeton's James Madison Program in American Ideals and Institutions. A native of West Virginia, George holds his JD and MTS from Harvard's Law and Divinity Schools and his DPhil from Oxford University, where he studied under John Finnis.
In November of 2009, George helped draft the Manhattan Declaration, a document that seeks to articulate a Christian voice in the public sphere. The Declaration urges the church to defend marriage and family and religious freedom. In 2012. Dr. George was appointed to the U.S. Commission on International Religious Freedom. In the past, he has served as a member of the President's Council on Bioethics and as a presidential appointee to the United States Commission on Civil Rights.

Steven Mark Hutchens, Ph. D.—Disturbed early on by controversy and disunity among professing Christians, Hutchens began in early adulthood to study the doctrine and lives of as many churches as possible, beginning with those of the fundamentalists and Evangelicals among whom he was raised. The pilgrimage this required was taken through a number of seminaries and divinity schools, Protestant and Catholic, liberal and conservative. During doctoral studies he was a Congregationalist minister.
Influenced by C. S. Lewis and the Mercersburg theologians and aided by Harold O. J. Brown and Carl Braaten, under whose supervision he wrote his dissertation, his conclusions include rejection of religious modernism and its satellite theologies, including those of egalitarianism, as fundamentally anti-Christian, and a rough ranking of the believing churches from greater to lesser levels of understanding.  In this ranking Eastern Orthodoxy stands first as the body whose theology and method comprehend the pervading Christological paradox upon which the faith and its Scriptures (with all creation) are established, and avoids missteps made by the most theologically encumbered Western churches.
These conclusions, however, make one no more than a bad Protestant, and attractive to no one hiring teachers of theology, so Hutchens served as a reference librarian for twenty years, retiring in 2015 to become Touchstone's book review editor.  He has been Chairman of the Fellowship of Saint James and is a senior editor of Touchstone, in which most of his writing appears.  He has also published essays and reviews in The New Oxford Review, The Congregationalist, The Southern Baptist Journal of Theology, The Religion and Society Report, The Evangelical Catholic, Sursum Corda, Books and Culture, and The New Atlantis.  He and his wife Mary live near Racine, Wisconsin, and have two daughters.

Dr. Leon J. Podles holds a Ph.D. in Old English and Old Icelandic from the University of Virginia. Some of his recent publications include The Church Impotent: The Feminization of Christianity (Spence) and Sacrilege, an in-depth look at sexual abuse in the Catholic Church. His latest book is Meek or Macho: Men and Religion, due out in 2017 from St. Augustine's Press. His work has appeared in numerous publications including America, The American Spectator, and Crisis.
After serving as a federal investigator for 20 years, Dr. Podles founded the Crossland Foundation, a non-profit organization dedicated to advancing Christian culture through education. He is involved in his own community by serving on the boards of the Baltimore Area Council of Scouts and the Baltimore Opera Company. He and his wife Mary are the parents of six children. He resides in Baltimore, Maryland, and Naples, Florida.
Executive Editor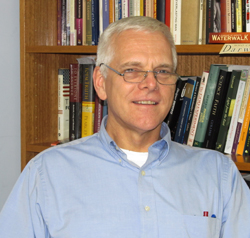 James M. Kushiner is the Executive Editor of Touchstone: A Journal of Mere Christianity, which he formed in 1986 as an occasional newsletter. The publication expanded into a quarterly journal in 1987 and he became its editor in 1992, when he established an editorial board of Protestants, Catholics and Orthodox Christians. He developed Touchstoneinto a bimonthly magazine in 1998. Kushiner edited Creed & Culture: A Touchstone Reader, (2003, ISI books), a collection of Touchstone's best 21 essays from its first ten years of publication. His most recent talk, "Marriage: Evolving or Intelligently Designed? Why There Can Never Be Any Such Thing as 'Same-Sex Marriage'," was presented at the Wheatley Institute, Brigham Young University, on October 29, 2015, in Provo, Utah.
Contributing Editors
J. Daryl Charles, Rod Dreher, Robert Hart, Graeme Hunter, Phillip E. Johnson, Peter J. Leithart, Frederica Mathewes-Green, Ken Myers, Kevin Offner, Folke T. Olofsson, William Saunders, William J. Tighe, Mark Tooley, R. V. Young
Assistant Editor
Graphics / Web
Jerry Janquart
Office Manager
Carolyn Frève
Marketing & Copy Editing
Patricia Kushiner
The Fellowship of St. James publications: Follow us online!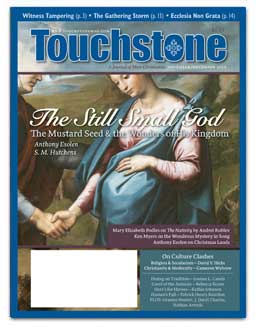 Touchstone
The Mustard Seed & the Wonders of His Kingdom
Salvo
Transgender Disorder & Really Bad Psychiatry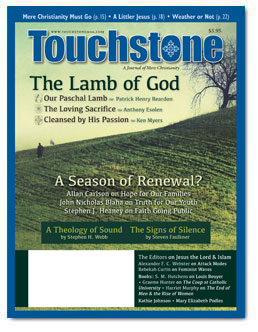 Touchstone
On Christian Stewardship & Climate Change
Salvo
Why the Design in Living Things Goes Far Beyond Machinery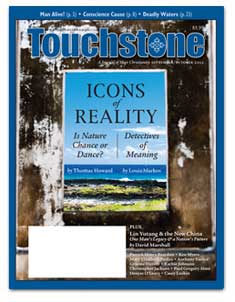 Touchstone
On Mathematical Certainty & the Liberty of Faith
Salvo
What the Search for Extraterrestrial Intelligent Life Means for Us