CREED & CULTURE: A TOUCHSTONE READER
---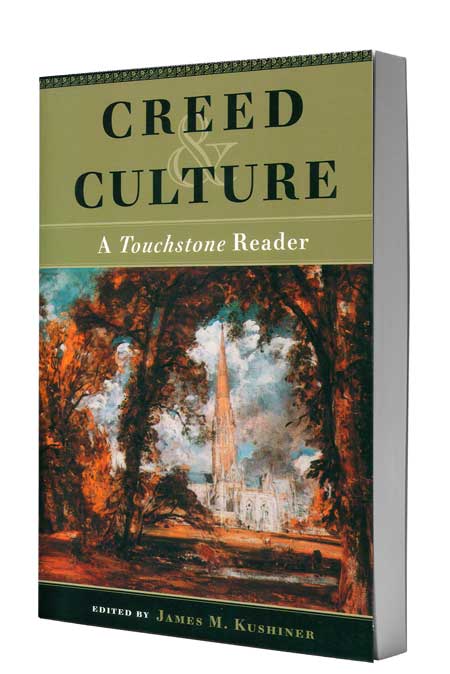 In Creed & Culture, Touchstone editor James M. Kushiner brings together twenty-one essays that originally appeared in the magazine. These thoughtful articles by an impressive roster of contributors not only make for absorbing reading, but also constitute a valuable compendium of the best contemporary Christian thinking on literature, culture, and theology. As Kushiner writes in the introduction, these essays "speak conscientiously for the gospel in a time in which creed and culture seem to be at grave risk." Published by ISI Books.
---
TABLE OF CONTENTS

-Christ & Culture: A Dilemma Reconsidered
A New Look at Culture, Christians & the State
by James Hitchcock

-Scientism: The World's Littlest Religion
How Theology Must Confront the New Global Religion of Scientism
by Huston Smith

-Classroom Chaos
Atheism & the Public Schools
by Patrick Henry Reardon

-No Place Like Home
A Personal Look at the Education of Children: Public, Private & Domestic
by Leon J. Podles

-The Century of the Cyclops
On the Loss of Poetry as Necessary Knowledge
by Steven Faulkner

-The Workshop of Worship
On Recovering Poetry for Our Children
by Steven Faulkner

-T. S. Eliot On Literary Morals
T. S. Eliot's After Strange Gods
by Russell Kirk

-Brideshead Revisited Revisited
Moral Imagination & the Catholic Faith in Evelyn Waugh's Modern Novel
by Thomas Howard

-Lessons From The Nursery
The Catholic Imagination Encounters Bambi
by James L. Sauer

-The Swiss Maharishi
The Religion of Carl Jung & His Legacy Today
by Philip G. Davis

-Family & Christian Virtue in a Post-Christian World
Reflections on the Ecclesial Vision of John Chrysostom
by Vigen Guroian

-An Everlasting Life
Remembering Mary Denise Sauer July 12, 1995—August 26, 1995
by James L. Sauer

-Recognizing the Church
A Personal Pilgrimage & the Discovery of Five Marks of the Church
by Thomas Howard

-All That Separates Must Converge
The Fragmentation of Christianity & the Unity of the Faith
by Leon J. Podles

-The Bible Tells Me So
On Knowing & Obeying the Biblical Pattern for Life & Godliness
by David Mills

-Christology & the Psalter
How "Inclusive Language" Emasculates the Psalms
by Patrick Henry Reardon

-The Professor & the Unicorn
Reality, Revelation & the Seductions of Abstract Thought
by S. M. Hutchens

-Meet the Latcons
The Long and the Short of Latitudinarian Conservatives
by David Mills

-Evading the Creed
The Various Attacks on the Faith of the Church & Why They Fail
by David Mills

-A Fig Leaf for the Creed
"Inclusive Language" Comes to Mass
by Paul Mankowski

-New Quest, Old Errors
The Fallacies of the New Quest for the Historical Jesus
by James R. Edwards
Subscribe to Touchstone today!
Touchstone is published by

All content The Fellowship of St. James — 2020. All rights reserved.
Returns, refunds, and privacy policy.