A Christmas Message
---

All after pleasures as I rid one day,
My horse and I, both tired, body and mind,
With full cry of affections, quite astray,
I took up in the next inn I could find.
There when I came, whom found I but my dear,
My dearest Lord, expecting till the grief
Of pleasures brought me to him, ready there
To be all passengers' most sweet relief?

O Thou, whose glorious yet contracted light,
Wrapt in night's mantle, stole into a manger:
Since my dark soul and brutish is thy right,
To man of all beasts be not Thou a stranger;
Furnish and deck my soul, that Thou mayst have
A better lodging than a rack, or grave.

—George Herbert, "Christmas," 1639

---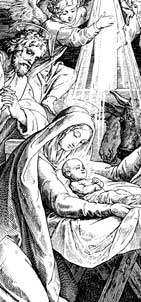 I remember one cold clear night when I was a boy, whooshing on a sled down the powdery snow behind my grandfather's house, while hearing in my mind the sound of an anthem we children had sung in church, pealing like bells in the darkness. I had no inkling then of what it meant to wander, unless it was to drag a sled zigzag to the top of a hill, and look down on the lights of the town, and stay out in the cold till it hurt.
We pity the child Jesus, born in the dark of winter, and laid to sleep in a manger, among the witless beasts, with no worthier men to celebrate his birth than the ragged shepherds of the nearby hills. But we are the wanderers, riding after pleasure, wearied by seeking what will not satisfy, spending our wages for what is not bread. Then we take up in the next inn we can find, and who is there but Jesus? He is the One we love—the One we run from, and the One we rejoice to find waiting for us. He himself is the Inn: that child truly innocent, both when he was a child and when he was a man, calling us to come to him after all our wandering, to abide in him.
But he wants even more for us than that. Consider that night, when the uncreated Light that spoke the light into existence wrapped himself in the mantle of darkness, as a thief, to steal into our world, even into a trough for feeding the beasts. But our souls, too, have known darkness, and we, too, have been as witless as the ox and the ass in the stable. So we cry out as Christmas approaches, "Come to us again, Lord Jesus! Eternal Son, make us like children again, that we may see your light!" I know that had I been swept out of the world on that frosty night of sledding, it would have been with the soul of a child. And then, the Child would have furnished and decked my soul with the greenery and the lights of Christmas, for he promises not only that we will abide in him. He, in his humility, in the majesty of his love, wants to abide in us.
We did not give him fine lodgings when he dwelt among us in the flesh. He slept on a rack, in swaddling bands; then, a little later, on the slab of a tomb, in a shroud. What our souls are like, what shabby dwellings they make, we cannot deny. We are not worthy that he should come under our roof. But this Christmas let us look upon the stable, and the tomb, and say in faith and hope and love, "To man of all beasts be not thou a stranger!"
May he dwell in you and in your loved ones, this Christmas and forevermore.
On behalf of your friends at
The Fellowship of St. James,
Anthony Esolen
---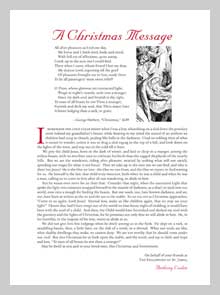 Download a pdf of this page
---